We want to assist you with Investing in South Sudan. Get Business Opportunities in South Sudan as well as to search for and connect with leading Companies and Investors in South Sudan. We also provide a list of key Government trade advisors who assist you with doing business in South Sudan and other relevant business information on South Sudan. Specifically, we offer three digital portals that are FREE to use and will be of interest to you: the Africa Business Community, Africa Business Opportunities Dashboard and our closed AFSIC African Investments Dashboard.
The Africa Business Opportunities Dashboard is an award-winning free digital platform with millions of impressions that allows you to promote your own business, make "calls for business" or look for business and investment opportunities in Africa. Business Opportunities that have been uploaded to our Africa Business Opportunity Dashboard will be promoted to global users of our Africa Business Community using our proven technology. Want investment, or to find a business partner, are you selling real estate etc, do you have goods, products or services you want to promote? If so our Africa Business Opportunities Dashboard is for you. View some of the business opportunities uploaded by our Africa Business Community here. Institutional Investors looking for investment can add themselves to our closed AFSIC African Investments Dashboard – after you have uploaded information about your investment opportunity we can send it directly into the inbox of many of Africa's most important investors. To benefit from any of these options join our Africa Business Community today FREE !
Our team runs AFSIC – Investing in Africa, perhaps Africa's most important investment event. To keep updated on AFSIC and forthcoming business and investment trips to South Sudan please Subscribe to our Mailers below.
Contact Us for More Information on Investing in South Sudan
Knowledge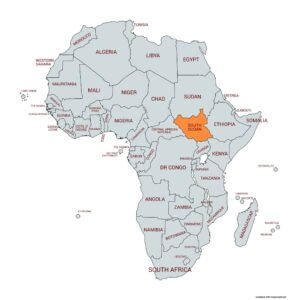 Country overview: South Sudan is a landlocked country located in East Central Africa. It shares borders with Uganda, DRC and Kenya to the South, Sudan to the North, Central Africa Republic to the west and Ethiopia to the east. It gained independence from Sudan on 9 June 2011. Its capital is Juba with 10 regional states which serve as administrative divisions. It is a Presidential Republic with the President sitting both as Head of State and Head of Government. It has a bicameral legislative system comprising of Council of States and Transitional National Legislative Assembly. Its official language is English, but Arabic is widely spoken. It has religion mix made up of Christian, Moslem and Animist. It has a mixed legal system based on Islamic (sharia) law and English Common law. It has an area size of 0.644 million sq km.
Demographic Information: South  Sudan  has an estimated population of 10.56 million comprising mostly of younger population (less than 25 years) which makes up about 62.9% of the population, those in the age bracket of 25-64 years makes up  about 34.6% of the population and above 65 years age group makes up about 2.5% of the population. Average population density is estimated at 18 inhabitants/km2. In terms of human development indicators, it has a life expectancy of 56.5 years (Women) and 54.6 years (Men). It achieved universal primary education with a 72.99% Primary enrolment rate in 2015 and overall literacy level of 34.5% as at 2018.
Broad Economic Overview: South Sudan's economy is dependent on crude oil, subsistence agriculture and humanitarian assistance. About 98% of government revenue comes from oil. It depends on the neighbouring countries for most of its consumed goods, capital and services. South Sudan has abundant of many natural resources such as crude oil, iron ore, copper, chromium ore, zinc, tungsten, mica, silver, gold, diamonds, hardwoods, limestone etc. Most of the natural resources remain untapped. South Sudan has the third-largest oil reserves in Sub-Saharan Africa. Due to lack of infrastructure and the landlocked nature, South Sudan depends on Sudan to transport oil through Sudan's pipeline to the oil terminal at Port Sudan facilities in Red Sea state in Sudan. Disputes with Sudan on how revenue from crude oil sales would be shared has hampered oil production and caused a dramatic reduction in revenue of South Sudan. Real GDP growth was an estimated 0.9% in 2019, a recovery from contraction of 1.9% in 2018 due to resumption of crude oil production following a peace agreement signed with regional leaders  in 2018 with the aim of concluding its five-year civil war. South Sudan's currency is the South Sudanese pound. The currency has witnessed massive depreciation since introduction.
Investment Opportunities: Attainment of peace and subduing security concerns (ongoing conflicts in the Blue Nile, Darfur, and South Kordofan states) are very key to enhancing investor confidence in South Sudan. Commitment to the peace agreement in 2018 will remain key for stability of oil production, private investment, foreign exchange flows, and public investment in the critical sectors of health, education, and agriculture. South Sudan's national development strategy has prioritized the agriculture and construction sectors for development. Opportunities are available in the agricultural sector as South Sudan boasts of vast arable land of about 30 million hectares with less than 5% under cultivation. Infrastructure reconstruction is a priority as South Sudan's infrastructure action plan states that transforming agriculture from its current subsistent state to an export contributor will require infrastructure investments amounting to USD 200M a year over the medium term. There is high demand to rebuild and construct over 2,500 km of roads with opportunities for private toll operators. There is potential not only in the oil sector, but in iron, diamond, copper, nickel, marble, and gold. In the energy sector, there are multiple power generation opportunities from Nile River.
Invest South Sudan – Recommended Contacts
Growing US-Africa Trade
In support of Prosper Africa goals of increasing two-way trade and investment between the United States and Africa, Africa Events Limited is mobilising our network and platforms to assist a substantial growth in trade between the US and Africa. Prosper Africa is a whole-of-government initiative that leverages the services and resources of 17 US Government agencies. If you are a US company looking to grow your import/export trade with Africa, or you are an African company looking to increase your trade with the United States please visit our portal focused on US-Africa trade.
List of Companies – Invest South Sudan
Want to add your South Sudan Company to our List? Sign Up Here.