We want to assist you with Investing in South Africa. Get Business Opportunities in South Africa as well as to search for and connect with leading Companies and Investors in South Africa. We also provide a list of key Government trade advisors who assist you with doing business in South Africa and other relevant business information on South Africa. Specifically, we offer three digital portals that are FREE to use and will be of interest to you: the Africa Business Community, Africa Business Opportunities Dashboard and our closed AFSIC African Investments Dashboard.
The Africa Business Opportunities Dashboard is an award-winning free digital platform with millions of impressions that allows you to promote your own business, make "calls for business" or look for business and investment opportunities in Africa. Business Opportunities that have been uploaded to our Africa Business Opportunity Dashboard will be promoted to global users of our Africa Business Community using our proven technology. Want investment, or to find a business partner, are you selling real estate etc, do you have goods, products or services you want to promote? If so our Africa Business Opportunities Dashboard is for you. View some of the business opportunities uploaded by our Africa Business Community here. Institutional Investors looking for investment can add themselves to our closed AFSIC African Investments Dashboard – after you have uploaded information about your investment opportunity we can send it directly into the inbox of many of Africa's most important investors. To benefit from any of these options join our Africa Business Community today FREE !
Our team runs AFSIC – Investing in Africa, perhaps Africa's most important investment event. To keep updated on AFSIC and forthcoming business and investment trips to South Africa please Subscribe to our Mailers below.
Contact Us for More Information on Investing in South Africa, and Doing Business in South Africa
Knowledge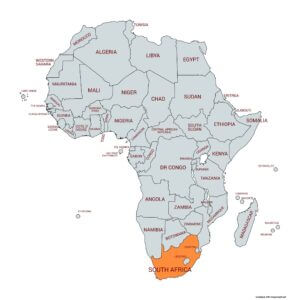 Country overview: South Africa is located on the southern tip of the African continent bordering both the Indian and Atlantic Ocean. South Africa surrounds Lesotho and it shares borders with Botswana, Namibia and Zimbabwe to the north, and Mozambique and Eswatini (Formerly Swaziland) to the east. South Africa attained majority rule on 27 April 1994 after minority rule that followed the amalgamation of four British colonies: Cape Colony, Natal, Transvaal, and Orange Free State) and formed the Union of South Africa on 31 May 1910.  It is a Parliamentary Republic with the President sitting as the Head of State and government.  Its administrative capital is Pretoria, the legislative Capital is Cape Town and judicial capital is Bloemfontein. It has an administrative structure divided into 9 provinces. It runs a Unicameral legislative system of government. South Africa's main ethnic groups consist of black African (majority), people of European ancestry, coloured (multiracial) ethnic group and Indian/ Asian ethnic group. There are 11 official languages including the English language which is the main language of business. Christianity is the major religion. It has a mixed legal system of civil law influenced by the Roman-Dutch model, English common law and customary law. It has an area size of 1.22 million sq km.  South Africa is often referred to as the "rainbow nation" to describe the country's multicultural diversity. South Africa has a highly developed economy and advanced infrastructure. It is the second biggest economy in Africa after Nigeria.
Demographic Information: South Africa has an estimated population of 56.43 million comprising mostly of middle age population, those in the age bracket of 25-64 years makes up of about 49.2% of the population, younger age group (less than 25 years) makes up about 44.7% of the population, and those above 65 years age group makes up about 6.1% of the population. Average population density is estimated at 49 inhabitants/km2. In terms of human development indicators, it has a life expectancy of 66.2 years (Women) and 63.4 years (Men). It achieved universal primary education with a 98.54% Primary enrolment rate in 2018 and overall literacy level of 87.0% as at 2017.
Broad Economic Overview: South Africa is rich in natural resources and is the world's biggest producer of gold, platinum, chrome and manganese. It is the second largest palladium producer and the fourth largest producer of diamonds in the world. It produces 80% of the world's platinum and has 60% of the world's coal reserves. South Africa has diverse manufacturing industries and is a world leader in several specialised sectors, including railway rolling stock, synthetic fuels, mining equipment and machinery. Agriculture contributes about 1.9% of the country's GDP and employs 5% of the workforce unlike other African countries where agriculture dominates the economy. South Africa's agricultural sector is highly diversified, market oriented and it is the world's sixth largest producer of wine. It has an advanced services sector, particularly financial and healthy banking system. Service sector employs about 72% of workforce and contributes 61% of the country's GDP. South Africa is a popular tourist destination, and a substantial amount of revenue comes from tourism. The economy has grown at a decelerated rate in recent years as weak public accounts, state-owned enterprises, persistent labor market rigidities and politicization of economic decision-making continue to constrain growth. Real GDP grew at an estimated 0.2% in 2019, down from 1.4% in 2018. It managed to achieve a modest compound GDP growth of 1.1% in the past 5 years. Its currency is South African Rand which is free floating currency. Main export includes diamonds, gold, platinum, machinery and equipment, other metals and minerals etc. Major imports include petroleum product, foodstuff, machinery and equipment, chemical etc.  
Investment Opportunities: South Africa has a vibrant financial sector that promotes economic diversification and a well-functioning capital market. South Africa offers a combination of developed first world economic infrastructure and favourable market access to global markets and rest of Africa market. With the commencement of African Continental Free Trade Area (AfCFTA), which creates a single continental market for goods and services in Africa, South Africa is set to be the main beneficiary given its advance industrial base as new export markets are created for its' goods. Key priority sectors that is being promoted by the country for investment according to recently launched South African Economic Reconstruction and Recovery Plan include aggressive infrastructure investment, energy sufficiency, tourism sector growth and development of Green economy. Other sectors with investment opportunities include manufacturing sector, mining sector (Gold, Platinum, Manganese, Chromite), Service sector (Business process outsourcing, film, TV & documentaries), Aquaculture, Agro-processing, Forestry, Green Industries (Clean Energy, Waste economy, Green transport), Advanced manufacturing (Fuel Cells, Pharmaceutical, Aerospace and defence, Medical devices, Chemicals and Electronics etc)
Recommended Contacts – Invest South Africa
| | Name | Job Title | Company Name | Business service Provided | Contact |
| --- | --- | --- | --- | --- | --- |
| | Alexa Gerrard | Regional Coordinator Southern Africa | Southern African – German Chamber of Commerce and Industry NPC | Chamber of Commerce | |
| | Allan Wood | Global Head of Business Development | Jersey Finance | NGO | |
| | Aya Rainer | Researcher | JETRO London | Trade and Investment Promotion Agency;Regional Trade Organisation | |
| | Bhavna Seth Ranjan | Head-Market Facilitation Services | Confederation of Indian Industry (CII) | Business Intelligence | |
| | Bridget Shoo | Regional Director (Southern Africa) | Enterprise Singapore | Trade and Investment Promotion Agency | |
| | David Smith | Chief Executive | British African Business Alliance Ltd | Chamber of Commerce | |
| | Duncan Harris | President | Australia Africa Chamber of Commerce | Chamber of Commerce | |
| | Eimear Costigan | Digital Comms Lead | British Chamber of Business in Southern Africa | Chamber of Commerce | |
| | Elise Donovan | Chief Executive Officer | BVI Finance | Financial Services | |
| | Frazer Lang | CEO | Scottish Africa Business Association | Trade Association | |
| | Ivy Ziqian Wang | Operations Manager | Australia Africa Chamber of Commerce | NA | |
| | Jacob Mothopeng | Marketing Officer | South African High Commission | Government Minister | |
| | John Paterson | Chairman | Scottish Africa Business Association | Regional Trade Organisation | |
| | Kiran Narayanant | General Manager | SME Chamber of India | Chamber of Commerce | |
| | Leon Ayo | President - British Chamber of Business in Southern Africa | British Chamber of Business in Southern Africa | Chamber of Commerce | |
| | Lonje Mwendera | Commercial Specialist | U.S. COMMERCIAL SERVICE | NA | |
| | Luis De Melo | Chairman | Global Chamber of Commerce for Portuguese Speaking Countries | Chamber of Commerce | |
| | Maham Saqib | | ICCIA | NA | |
| | Mariam Adel | Economic researcher | jazan chamber of commerce | Analytics | |
| | May Yuen | Analyst | Africa South East Asia Chamber of Commerce | Chamber of Commerce | |
| | McKenzie Penton | Director of Events & Business Development | Invest in the USA | Trade Association | |
| | Michael Mills | Climate Finance Adviser | UK Department for Business, Energy & Industrial Strategy (BEIS) | Government Official | |
| | Nara Pires | Communication Director | AFroChamber | Chamber of Commerce | |
| | Palesa Phili | CEO | Durban Chamber of Commerce and Industry | Chamber of Commerce | |
| | Rupi Nandra | Commercial Benefits Specialist | FCDO | NA | |
| | Sarah Whitten | Regional Manager, Financing and Implementation | U.S. Trade and Development Agency | Trade and Investment Promotion Agency;Investor - Institutional;Development Finance Institution | |
| | Terence GALE | CHAIRMAN | EXPORTERS CLUB WESTERN CAPE | Professional Body with Members | |
Growing US-Africa Trade
In support of Prosper Africa goals of increasing two-way trade and investment between the United States and Africa, Africa Events Limited is mobilising our network and platforms to assist a substantial growth in trade between the US and Africa. Prosper Africa is a whole-of-government initiative that leverages the services and resources of 17 US Government agencies. If you are a US company looking to grow your import/export trade with Africa, or you are an African company looking to increase your trade with the United States please visit our portal focused on US-Africa trade.
List of Companies – Invest South Africa
Want to add your South Africa Company to our List? Sign Up Here.
| | Name | Job Title | Company Name | Business service Provided | Contact |
| --- | --- | --- | --- | --- | --- |
| | Abdon Dali | Founder | Phoenix International | Offshore Trust and Corporate Services | |
| | Abel Leketi | CEO | Leketi holdings Pty Ltd | Mining and Mining Services | |
| | ABSA Pepler | CEO | Pepworths (Pty) Ltd | Financial Services | |
| | Adam Gouveia | CFO | AZA | NA | |
| | Adeola Adetunji | CEO | Commercial Concepts Africa | Financial Services | |
| | Adolf Bosch | Chief Operating Officer | Sud South Sarl | Mining and Mining Services | |
| | Adolf Joubert | CEO | Afrinatural | Management;Company Executive;Import/Export;Entrepreneur;Founder | |
| | Adriaan Marx | Director | Global Superfruits | NA | |
| | Adrian Kennedy | Estate Agent | Infoprop | Marketing Services | |
| | Adwall West | Director | Qarah Group | Other;Business Intelligence;Dealmaker;Real Estate Services;Entrepreneur | |
| | Again Diale Bohopa | Director | ELA Enterprises Pty Ltd | NA | |
| | Agisanang Tlhape | Managing Director | Anchored Campus Tuition | NA | |
| | Ahmed Khan | Founder | Smart Citizens | Corporate Advisory;Business Intelligence;Software or Technology Services;Dealmaker | |
| | Ainsel Trieu | Founder | Ainsel Trieu International | Import/Export | |
| | Aisha H Joosub | Director | HNY Trading | Import/Export | |
| | akhona mdawe | Founder | Xenith of Africa | Sales | |
| | Akhona Precious Ntsali | | Competant tradings | Entrepreneur | |
| | AKINPELU AKINLOYE OLUWOLE | INTERNATIONAL BUSINESS DIRECTOR | Congeniality travel and tours | Consultant - General | |
| | Al Karaki | CEO | 4iAfrica | Software or Technology Services | |
| | Alain Jacquet | Owner and Principal | SABEeX | Legal Services;Corporate Advisory;Financial Services;Business Intelligence;Software or Technology Services;Engineer;Sales | |
| | Alain Vaudran | Director | FATEX | Consultant - General | |
| | Alan Glen | Head: Africa Desk | Indwe Risk | Insurance Products | |
| | Alana van Wouw | Analysist | Crane Ridge - consulscape | NA | |
| | Albert SIBOYIBOYI | Director | ASIBOYI Holdings | Investor - Corporate | |
| | Albert Stanford | pesioner | private | Other | |
| | Albert Venter | | Kleingeluk Vars Produkte CC | Agriculturalist/Farmer | |
| | Albertus Roux | owner | RH homes | Other | |
| | Alden Coetzee | Founder | Elmax Metro Ferry | Entrepreneur | |
| | Aleks Scepovich | Owner | Nevzosmart | Import/Export | |
| | Alexander Anderson | CEO | iDeal Energy Corporation | Import/Export;Entrepreneur;Sales | |
| | Alexander Euler | Operations Director | Cossie Holdings PTY Ltd. | Other | |
| | Alexandra Felekis | Partner | Webber Wentzel | Legal Services | |
| | Alfred Chipadza | Tree surgery and landscaping | Cape Town Tree Fellers Services And Projects (Pty) Ltd | Agriculturalist/Farmer | |
| | Alfred Morulane | | Phethendi | NA | |
| | Alfred van Wyk | Managing Director | Mamusa Farms | Investment Banking;Corporate Advisory;Banking Services;Insurance Products;Financial Services;Development Bank;Consultant - General;Investor - Corporate;Dealmaker;Development Finance Institution;Trade Finance;Economist;Real Estate Services;Veterinarian;Agriculturalist/Farmer;Mining and Mining Services;Import/Export | |
| | Ali Mengwai | Entrepreneur | Mahle properties | Real Estate Services | |
| | Alina Truhina | Chief Strategy Officer | Founders Factory Africa | Investor - Institutional | |
| | Alison Ackerman | Business Development Manager | GCS (Pty) Ltd | Consultant - General;Consultant - ESG | |
| | Allan Mutuma | | Center for Affordable Housing Finance in Africa | NA | |
| | Almero Korff | Company owner | Premiserv project Specialists (Pty.)Ltd. | Real Estate Services;Project Management | |
| | Alvina Moodley | Director | Alvina Moodley Attorneys | Legal Services | |
| | Alwyn Rawlinson | MD | Sign-it Mossel Bay (PTY) Ltd | Marketing Services;Other;Public Relations or Investment Relations or Communications;Sales | |
| | Amanda Hart | CEO | Ukuqala Okusha | Other | |
| | Amanda Morris | Director | Conbrako Enterprises | Mining and Mining Services | |
| | Amani Mukingilwa | Electrical engineer | Safi tech and electrical | NA | |
| | Ambrose Petersen | Managing Director | Midwest Enterprises (Pty) Ltd | Dealmaker;Entrepreneur | |
| | Aminoni Majaru | Project Manager | n/a | Agriculturalist/Farmer | |
| | Anam Mahamba | CEO,CTO | a motors | Software or Technology Services | |
| | Anandakumaren Pillay | Director | AMP Enterprises | Investment Banking;Banking Services;Trade and Investment Promotion Agency;Accountant;Investor - Institutional;Investor - Corporate;Dealmaker;Development Finance Institution;Trade Finance | |
| | Anazi Mngoma | Insurance | Sanlam | NA | |
| | Andre Bresler | Managing Partner | Benchmark International | Marketing Services;Investment Banking;Corporate Advisory;Financial Services;Dealmaker | |
| | Andre Chapman | Director | AZ Consulting | Software or Technology Services | |
| | Andre Fourie | Director | Rainmaker | Dealmaker | |
| | Andre Fourie | Managing Director | Aqua Plastech (Pty) Ltd | Other;Import/Export | |
| | Andre Kruger | CEO & Head Trainer | PPP Training Online (Pty) Ltd | Other | |
| | Andre Le Roux | Head of Business Development | Maitland | Fund Administration | |
| | Andre Normund-van Wyk | Mr | Adtech SA | Entrepreneur | |
| | Andre Roux | | FARGO Groups | Professional Body with Members | |
| | Andre Taute | Co-Founder and Executive Director | SASA Solutions | Software or Technology Services | |
| | andre van heerden | member | agrimart africa cc T/a agritradingpost.co.za | Agriculturalist/Farmer;Entrepreneur | |
| | Andre van Rhyn | CEO | Javan Fabrications | NA | |
| | Andre Van Veen | Owner | Clevasourcing Limited | Banking Services;Financial Services;Software or Technology Services | |
| | Andre Van Veen | owner | Clevasourcing | Marketing Services;Banking Services;Financial Services;Software or Technology Services | |
| | Andre van Zyl | farmer | Silver Creek PTY Ltd | NA | |
| | Andre Ward | Chief Executive Officer | Atlantis Ports and Logistics SA | Consultant - General | |
| | Andreas JANSEN VAN Rensburg | Manager | Suid punt security | Agriculturalist/Farmer | |
| | Andrew Dicks | MD | Ilizwe Treasury Services (Pty) Ltd | Other;Financial Services;Business Intelligence;Research Analyst | |
| | Andrew Ing | DIrector | Cherry Moss Trade and Invest 83 Pty Ltd t/a GUN BAY WINES | Import/Export | |
| | Andrew MAHONONO | Founder & Director | Premium Alliance Group | Corporate Advisory;Accountant;Dealmaker;Company Executive;Entrepreneur | |
| | Andrew Ramotlou | CEO | Ramotlou Building Construction | Real Estate Services | |
| | Andrey Bogdanov | Principal And Interim CEO | Risk Insights | NA | |
| | Andrie Wessels | Farmer | Agrilia Farming Solutions | Other | |
| | ANDRZEJ FORMANOWICZ | Mining Engineer | 1MDG | Mining and Mining Services | |
| | André Buitendag | Owner/Manager | Ouplaas Lumberjacks | Agriculturalist/Farmer;Management | |
| | André Human | Director C.O.O. | Lion Minds | Software or Technology Services | |
| | Andy Holland | Director | Ivory Wealth & Truestone Capital | Financial Services | |
| | Anele Mthembu | Founder | Roll 'n Blaze | Other | |
| | Anele Nene | Director | Istogen Investment Holdings | Investor - Corporate | |
| | Angel Jones | CEO | InbyEX - Insights by Experts | Human Resources Services | |
| | Angela McLeod | Managing Director | Specification Solutions Constultants CC t/a: A&D Waste Deployment Services | Project Management;Management;Entrepreneur;Founder | |
| | Angus Brown | Co-Founder | Centbee | Banking Services;Financial Services | |
| | Anirudh Kediyal | CEO | Pesa Capital | Trade Finance | |
| | Annah Ndlovu | Farm Manager | Prommap Pty Ltd | Agriculturalist/Farmer | |
| | Annette Diakanua | Doctor | JST hospital | Health Services | |
| | Anthea Coleman | Director | BIG BUSTARS ENTERPRISES | Business Accelerator or Incubator | |
| | Anthony Abochi | CEO | ATLAS GLOBAL PROJECTS CC | Consultant - General | |
| | Anthony Coerecius | MD | Tonys Leather(pty)ltd | Entrepreneur | |
| | Anthony Kazadi | Engineer, entrepreneur | Incase resources | Other;Investor - Corporate | |
| | Anthony Rademeyer | Managing Director | Chanbeta International (Pty) Ltd | Investment Banking;Consultant - General;Dealmaker;Management;Entrepreneur;Founder;Sales | |
| | Anthony Stonefield | Innovation Venture Entrepreneur & Scout | Several exponential innovation businesses for Africa and the Developing Markets | Investment Banking;Financial Services;Consultant - General;Investor - Personal;Dealmaker;Development Finance Institution;Project Management;Management;Company Executive;Entrepreneur;Educationalist;Founder | |
| | Anthony van Graan | CEO | SABIC | Other | |
| | Anton Rudolph | Director | ASC INSTALLATION AND SUPPLIES | Sales | |
| | Antonio Ferreira Pinto | Managing Partner | Finergreen | Investment Banking;Corporate Advisory;Financial Services;Investor - Corporate | |
| | Anusha Naidu | Corporate Finance Executive | Select Africa, African Alliance | Financial Services | |
| | Anushka Bogdanov | Managing Director | Risk Insights | Consultant - ESG | |
| | Anza Makhado | Farmer | Tsha Andi general supplier pty(LTD) | Agriculturalist/Farmer | |
| | Aobakwe Mothibi | Director | Kesembo Aviation and Services | Other | |
| | Aphelele Makongwana | Director | Apple Brick Trading (pty) ltd | Other | |
| | Aphelele Zondo | Construction/Power energy | SOKHULU DYNAMIC CONSTRUCTION PTY.LTD | Agriculturalist/Farmer;Project Management;Management;Entrepreneur;Engineer | |
| | Aphiwe Mchunu | Co-Director | Kamn Capitalists | Entrepreneur | |
| | Arthur Venter | Inventor | Ardane Ventures | Founder | |
| | Ashika Diallo | | Daily delights | Other | |
| | Ashlea Evans | Director | The King's Speech | Marketing and Public Relations Services;Public Relations or Investment Relations or Communications;Human Resources - Training | |
| | Ashleigh Mancer | Marketing & Sales Consultant + Webdesigner | Conveyor & Industrial supplies Pty Ltd | NA | |
| | Ashley John Dauman | Managing Director | LiebeMan Holdings (Pty) Ltd | Financial Services;Fund Administration;Business Accelerator or Incubator | |
| | Ashley Mapokgole | Founder | Dejaz Match Holdings PTY LTD | NGO;Dealmaker | |
| | Ashley Petersen | Senior Business Development Manager: Rest of Africa Support Department | Industrial Development Corporation of South Africa Ltd (IDC) | Development Finance Institution | |
| | Ashley Rasebotsa | Principal | Monavee Capital | Financial Services | |
| | Ashley Seymour | CEO | InnesFree Capital | Dealmaker | |
| | Ashraf Essop | Director | Rossouws Lesie | Legal Services | |
| | Asima Joosub | CEO | AJ5DPROJECTS | Other;Project Management;Import/Export;Entrepreneur | |
| | Athenkosi Mtya | Director | Isakhono SikaJune General Services Pty Ltd | Agriculturalist/Farmer | |
| | Athenkosi Tuis | Director | Tuis Investment Holdings Pty Ltd | Development Finance Institution | |
| | Atlegang Alison | Self Employed | Atlega Mining n Construction | Mining and Mining Services | |
| | Aubrey Meissenheimer | Executive Officer | LESEDING | Business Intelligence | |
| | Audrey Gama | Student | Constance ED Rental Properties | Other | |
| | Augusta Dorning | Head: Africa Business | Lenmed | Investor - Corporate;Management;Health Services | |
| | Avhafunani Mulaudzi | Managing Director | Maphaha Mining Pty Ltd | Mining and Mining Services | |
| | Avril Van Der Rheede | CEO and founder | Eagle Towers SA | Other | |
| | Ayanda Masilela | CEO | AyZapp | Software or Technology Services | |
| | Aydonne Samuels | Director | National Flag | Marketing Services;Marketing and Public Relations Services;Entrepreneur;Sales | |
| | Azhar Goliath | CEO/Shareholder | Call of Duty Construction (Pty)Ltd | Founder | |
| | B. Khoury | Dr | J and J Khoury for Logistics Research Consultancy | Trade and Investment Promotion Agency;Consultant - General;Investor - Personal;Research Analyst;Analytics;Management;Entrepreneur | |
| | Babalwa Ngonyama | CEO | Sinayo Securities (Pty) Ltd | Stockbroker | |
| | Babalwa Totongwana | Products research and development | Kente Beauty | Other | |
| | Badiri Kgatlhane | Director | BADIRIKK | NGO;Human Resources - Training;Mining and Mining Services;Entrepreneur | |
| | Barbara Ayissi | Director | Africa Business Expansion (Pty) Ltd | Consultant - General;Dealmaker | |
| | Barbara Mallinson | Chief Executive Officer | Obami Networks Pty Ltd | Software or Technology Services;Human Resources - Training | |
| | Barns Ekole | CEO | MIG | NA | |
| | Barry Havenga | CEO | ActiV Capital | Dealmaker | |
| | Barry Nyabonda | | Southern Energy | NA | |
| | Basia Ganda | DIRECTOR | Libobi Group | Marketing Services;Marketing and Public Relations Services;Corporate Advisory;Financial Services;Trade and Investment Promotion Agency;Accountant;Business Intelligence;Mining and Mining Services;Import/Export;Entrepreneur | |
| | Basil Koekoe | Owner/CEO | Koekoe farm(pty) | NA | |
| | Basil Polydorou | Trading Desk Manager | Mexem | NA | |
| | Batlhobogeng Rapelang | Founder and CEO | Azazile Media Group | Founder | |
| | Bayanda Ntokozo | Restaurant | Sikhulangolwazi Food Supplies | Sales | |
| | belinda aapies | manager | labella casa | Entrepreneur | |
| | BELINGA GILLES | ceo | NJILEFACK INVESTMENT | Investor - Personal | |
| | belinga gilles | ceo | camphamed | Other | |
| | Belvana Abeli | Green Economy Portfolio Manager - Brownfield Investments | Wesgro | NA | |
| | Ben Groot | CEO | Lexa Operations (Pty) Ltd | Business Intelligence | |
| | Ben Olivier | Game farm Developer | Duinefontein Game Reserve | Project Management | |
| | Ben Schoeman | | Cartrun (Pty) Ltd | NA | |
| | Benice Ruiters | Managing Director | DBD Solutions (Pty)Ltd | Human Resources Services | |
| | Benjamin Ngo | Barbershop | Barber king | NA | |
| | Benjamin Sassman | Director | NCSD Consulting | Agriculturalist/Farmer | |
| | Benjamin Sassman | Owner | Hemp 4 Life | Agriculturalist/Farmer | |
| | Benny Bernard | Director | Peni Lodge and Wine Restaurant | Other;Professional Body with Members | |
| | benoni Khiba | Fashion designer | NvN design | Other | |
| | Berick Mhlanga | International Partner WBAF investment | Dube Business Enterprise | Development Bank;Consultant - ESG;Business Intelligence;Chamber of Commerce | |
| | Berris Julius | Director | Deltoro Logistics | Trade and Investment Promotion Agency;Consultant - General;Software or Technology Services;Dealmaker;Human Resources - Training;Mining and Mining Services;Project Management;Management;Company Executive;Import/Export;Entrepreneur;Sales | |
| | Beryl Fume | Director | Beryl Fume Properties and Projects | Mining and Mining Services | |
| | Bethea Clayton | Gatekeeper | Flux Trends Analysis (PTY) LTD | Research Analyst | |
| | Beverlee Smith | Business Owner | Phoenix Rising Resources (Pty) Limited | Business Accelerator or Incubator | |
| | Bheki Mfeka | Director | SE Advisory | Corporate Advisory;Consultant - General;Consultant - ESG;Dealmaker;Economist | |
| | Bheki  Gumede | Head of Operations  | Yellow Card Financial SA | Financial Services | |
| | Bhekuzulu Sibanda | Director | Totem Capital (PTY) LTD | NA | |
| | Boela du Plooy | Founder & Executive Director | Hotels & Real Estate | Other | |
| | Boitumelo Phungwayo | Founder & CEO | self employed | Marketing Services;Marketing and Public Relations Services;Consultant - General;Public Relations or Investment Relations or Communications;Dealmaker;Real Estate Services;Management;Company Executive;Entrepreneur | |
| | Bonface Ndawala | | Bond Empire Pty Limited | Corporate Advisory;Financial Services;Consultant - General;Accountant;Business Intelligence;Software or Technology Services;Dealmaker;Analytics;Management;Company Executive;Entrepreneur;Founder;Sales | |
| | Bonga Thombeni | Product Designer / Design Engineer | INTERLINK | Software or Technology Services;Entrepreneur;Engineer | |
| | Bongani Kubeka | Director | Shivah Resources | Mining and Mining Services;Entrepreneur | |
| | Bongani Matshaka | | Cattle Fanatics Farm Pty Ltd | Entrepreneur;Founder | |
| | Bongani Ngobese | Founder | Gary Gray Kids Apparel | Entrepreneur;Founder | |
| | Bongani Sithole | Managing Director | Founders Factory Africa | NA | |
| | Bonginkosi Memela | Director | Mpact Recycling | Import/Export | |
| | Bradley Sirmongpong | COO | MU Vision International | Mining and Mining Services;Project Management;Entrepreneur | |
| | Bramwill Bruinders | CEO | Enisav Technologies | Project Management;Entrepreneur;Engineer;Founder | |
| | Brandon Abrahams | QA/QC | BranLi | NA | |
| | Brandon Ernest | Director | BCE Corporation | Entrepreneur;Founder | |
| | Brato Malgas | Human Resource Director | Promo Enterprise Pty Ltd | Other | |
| | Brent De Beer | International Relationship Manager | African News Agency | Marketing and Public Relations Services | |
| | Brian AmericA | Sales and Marketing director. | TOTTAgency | Dealmaker | |
| | Brian Leff | Business Development Manager sub-Saharan Africa | Umongo Petroleum | Dealmaker | |
| | Brian Lundwe | CEO | Chibza diamonds & Jewellery pty ltd | Entrepreneur | |
| | BRIAN MAGONA | MARKETING DIRECTOR | SKY MOON SOLUTIONS | Agriculturalist/Farmer | |
| | Bridgette Huma | | BYSCHA TRADING AND PROJECTS PTY | Management | |
| | Bright Mthembeni Hlongwane | Managing Director | Isimangaliso Group Pty Ltd | NA | |
| | Brilliant Shoba Shoba | Managing Director | Medsac Enterprise | Mining and Mining Services;Entrepreneur | |
| | Brown Griffith | Director | CYOFIN INVESTMENT (PTY) LTD | Mining and Mining Services | |
| | Bruce Herbert | Africa Sales | Henry Squire & Sons | Other | |
| | Bruce Mashonganyika | Founder | BACOSSI | Trade and Investment Promotion Agency;Business Intelligence;Dealmaker;Import/Export | |
| | Bugalo Sebinyane | Founder | CreativelyGod | Marketing Services;Software or Technology Services;Musician;Artist;Entrepreneur;Founder;Sales | |
| | Buhle Donga | Analyst | Emerging Energy Corp | Dealmaker | |
| | Bulisani Mnguni | Director | Jongosi Farm | NA | |
| | Burger Daniel Terblanche | Founder ,Marketing and new business development | Feeler Africa | Marketing and Public Relations Services;Agriculturalist/Farmer | |
| | Busisiwe Madi | CEO | BlackBev (Pty) Ltd | NA | |
| | Cameron Billson | Director | Grey Matter Investments | NA | |
| | Campbell Barnes | Director | Vista Capital | NA | |
| | Canzi Beni | Shareholder/Managing Director | Vtech | Entrepreneur | |
| | Caphus Mogosetso | Director | Johannesburg Qualified Electroplaters Pty Ltd | NA | |
| | CAREL VD MERWE | Director | Indlab | Engineer | |
| | Caren Jordaan | Director | DCKN | NA | |
| | Carina Ellis | Director | I C E Projects Management PTY LTD | Project Management | |
| | Carl Mclellan | Real Estate Recruitment Consultant | Macdonald & Company | NA | |
| | Carla Ferreira | CCO | Capitale Student Housing Fund | Dealmaker | |
| | Carlo Cecil Paul Scholtz | Founder and Director | Investment Propportunities | Marketing Services;Software or Technology Services;Investor - Personal;Dealmaker;Analytics;Real Estate Services;Project Management;Entrepreneur;Founder;Sales | |
| | Carmelita Maritz | Director | Wilde Als Apotheca (Pty) Ltd | Other | |
| | Carolina Coetzee | | Dire Wolf Interprises | Agriculturalist/Farmer | |
| | Casey Berkowitz | Marketing Manager | Timeless Africa SAfaris | Other | |
| | Catherine Nabwile | | GENPRO | Software or Technology Services | |
| | Catherine Smith | Construction | Infinity solutions | Other | |
| | Cathy Adendorff | Marketing Manager | Mitas Corporation (Pty) Ltd | NA | |
| | Cathy Goddard | CEO | FyreFem Fund Managers | Investor - Corporate | |
| | Cathy Montgomery | Bid Management | Paycode (Pty) Limited | Financial Services | |
| | Cc Prime | Admin | CCPrimiera | NA | |
| | Cee-Jay Sha | Founder | Passive Start-Ups | Financial Services;Trade and Investment Promotion Agency;Stock Exchange;Trade Association;Software or Technology Services;Investor - Corporate;Stockbroker;Founder | |
| | Celani Ndlovu | Director | Mzamos Resources Pty Ltd | Dealmaker;Mining and Mining Services;Import/Export;Entrepreneur | |
| | chad phillips | founder | home with ME | NA | |
| | Chandre Hamza | Branch manager/Managing Director | Hairline Restoration Studio | Other | |
| | Chanelle Coetzee | Sales Administrator | MechProTech | Other | |
| | Chantelle Van den Heever | Financial Director | Keluarga Investments | Other;Consultant - General | |
| | Charl Cronje | CEO | Euca Oils | NA | |
| | Charl Du Plessis | COO | VADER Industries (Pty) Ltd | Software or Technology Services | |
| | Charl Oosthuizen | Director | BCWMHoldings PTY LTD | Management;Company Executive;Sales | |
| | Charl van Heerden | Director | Brand Fusion Africa | Marketing Services | |
| | Charl Wiid | Consultant | Private | NA | |
| | Charlene Smith | Sales Director | Insight Consulting | NA | |
| | Charles Machiri | Managing Director | Rashe Energy Africa | Other | |
| | Charles Savage | CEO | Purple Group | Financial Services | |
| | CHARMAIN LEWIS | RECEPTIONIST | DR CE SWANEPOEL | NA | |
| | Charnell van der Westhuizen | Founder | Animeniax | Other | |
| | Chen Read | Environmental / Sustainability Consultant | Triplo4 Sustainable Solutions | NA | |
| | Cheng Bazale | CEO | BSI Group | Corporate Advisory;Consultant - General;Accountant;Business Intelligence;Management;Company Executive;Import/Export | |
| | Cherie Kruger | Director and COO | Bellathea (PTY) Ltd | Other | |
| | Chetan Mistry | Quantity Surveyor | ADM Construction Consultants | Consultant - General | |
| | Chimuka Shakantu | Director | LETS FIBRE (PTY) LTD | Stock Exchange;Software or Technology Services;Investor - Corporate;Real Estate Services;Import/Export;Entrepreneur;Founder | |
| | Chonga Toyi | Co-founder | Speed: Laundry Delivery Service | Marketing and Public Relations Services | |
| | CHRIS BALOYI | Managing Director | Bosch Capital | Corporate Advisory;Dealmaker;Fund Administration | |
| | Chris Diedericks | Director | Renew Industries | NA | |
| | Chris George | Director | Edu-Global | Educationalist | |
| | Chris Heaton | Founder & Managing Director | Skrmiish | Marketing Services;Management;Entrepreneur;Founder | |
| | Chris Rossouw | | Rossgro | Business Intelligence;Professional Body with Members;Dealmaker | |
| | Chris Tod | Advisor | Africa Bunkering & Shipping | NA | |
| | CHRIS VORSTER | owner | Active Identity | Real Estate Services;Entrepreneur;Educationalist;Security Services | |
| | Chris Wilken | CEO | Boundless Skyes | Consultant - General | |
| | Christian Heili | Director | Heili Mining & Tunnelling | Consultant - General | |
| | Christian Jacobs | Director | CX Professional Services Pty ltd | NA | |
| | Christian Lombard | Accountant | Evenumi | NA | |
| | CHRISTIAN MANDA | CEO | ATONGAZERU HOLDINGS PTY LTD | Corporate Advisory;Consultant - General;Entrepreneur | |
| | Christine Lee | Business Owner | Kopano Group Pty Ltd | NA | |
| | Christo Geyer | Business Development | TBC | NA | |
| | Christo Klopper | CEO | Private | NA | |
| | Christo Meyer | Founder/Multi-Jurisdictional Strategist | Uchi Advisory | Corporate Advisory | |
| | Christo Rachmann | | Remmogo Tilapia (pty) ltd | NGO | |
| | Christof Jansen | | Chevres Boerdery | NA | |
| | Christopher Evans | Managing Director | Africa GFI Fund Advisors | Financial Services | |
| | Christopher Johannes | Business owner and Commodity trader | Liv Logistics | Legal Services;Business Intelligence;Dealmaker;Mining and Mining Services;Management;Import/Export | |
| | Christopher Kapanga | Business owner | We Clean It All Shop | Project Management;Management;Entrepreneur;Founder;Sales | |
| | Christopher Makombe | Founder and Developer | Swiftly Box | NA | |
| | CHRISTOPHER PRETORIUS | DIRECTOR | iNALA STORAGE | Management | |
| | Christopher van Heerden | Director | Brandwacht Breweries (PTY) Ltd | Other | |
| | Cindy Buser | Founder and Managing Director | Indian South Africa Chamber of Commerce(INSACC) | Other;Educationalist | |
| | Cindy Kleynhans | Director | Cifri Trading | NA | |
| | Cingembo Mqaqa | Chief Executive | Espin Connect | Entrepreneur | |
| | Ciska De Jonge | Director | Abilita Dinamiche Evoluzione | Educationalist | |
| | Claim E Mathieussika | | Clirz Comp | Software or Technology Services | |
| | Claire Alexander | Director | Africa Scotland Business Network | NA | |
| | Clarence Johnson | CEO | Johnson&LeRoux | Dealmaker;Import/Export | |
| | Clarissa Pillay | Associate Principal | Africa Rising Corporate Advisory | Corporate Advisory | |
| | Clifford Katisi | | Infinite agri investments | Agriculturalist/Farmer | |
| | Clifford Morwagae | Director | Sisu tec | Agriculturalist/Farmer | |
| | Clifford Mulozi | Chief Executive Officer | Cildel Trading and Consultancy Services (Pty) Ltd | Corporate Advisory;Consultant - General | |
| | Clinton Julius | CEO | JSRR Trading PTY LTD | Other | |
| | Clive Finniss | sales Engineer | Spress | Other | |
| | Cobus Truter | CEO | Indlu Living | Real Estate Services | |
| | Cobus Truter | CEO | IndluLiving | Other | |
| | Colette Symanowitz | Director Marketing, Digital, Business Development | FraudCracker.com | Software or Technology Services | |
| | Colin Human | CEO | Goalfix Financial Consultants and Modellers | Corporate Advisory | |
| | Colin Kannemeyer | Director | Kannemeyer Property Developers | NA | |
| | Colin Povey | MD | Sierra Global (Pty) Ltd | Import/Export | |
| | collen khoza | Manager | Afrikah Finance | Financial Services | |
| | Conny Ngobeni | farmer and manufacturer | Vutomi and Vutlharhi Trading Enterprise | NGO;Investor - Personal;Investor - Corporate | |
| | Conrad Arendse | Director: Business & Technical Development | Atlanthia (Pty) Ltd | Corporate Advisory;Consultant - General;Engineer | |
| | Craig Donaldson | Owner | Donaldson Farms (Pty) Ltd | Agriculturalist/Farmer;Founder | |
| | Craig Jamieson | Chairman/CEO | CMJ Capital Trding | Investor - Personal | |
| | Craig Jamieson | CEO / Chairman | CMJ Capital Trading | Development Finance Institution | |
| | Craig Turton | | Spud Africa | NA | |
| | Crosby Pamberi | CEO | Heritage Pay | Mining and Mining Services | |
| | Crosby Pamberi | CEO | Heritage Pay | Financial Services;Agriculturalist/Farmer;Mining and Mining Services | |
| | Cungu Kamau | Founder | Cungu Aviation | Founder | |
| | Cynthia Tladi | Director | Paulmo (Pty) Ltd | Other | |
| | Dabwitso Kasauka | Co-founder | Penny PTY | NA | |
| | Dale Holloway | Managing Director | Crowe DNA (Pty) Ltd | Human Resources Services | |
| | Daleen Engelbrecht | Transaction Executive | Benchmark International | NA | |
| | Damon Choudree | General Manager | 3D Micro SA | Software or Technology Services | |
| | Danie Grundlingh | Director | Ebenhaeser Engineering | Other | |
| | Daniel Berman | Independent Capital Markets Advisor | Fish Eagle Advisors | Corporate Advisory | |
| | Daniel Motshwane | Business Development Strategist | LFP GROUP | Consultant - ESG;Business Intelligence;Agriculturalist/Farmer | |
| | daniel tshiani | Director | Inet tech(pty) | Other;Trade Association;Investor - Corporate;Veterinarian;Agriculturalist/Farmer;Engineer | |
| | Danny van Niekerk Snr | Development/design | Trucktime Systems | Other | |
| | Daphne Koketso Hlatshwayo Hlatshwayo | Owner & co-founder | CYFE Legacy | Marketing Services;Business Intelligence;Artist;Company Executive;Health Services;Entrepreneur;Founder | |
| | Darlene Smith | Head of Strategy | Imbumba Foundation | NA | |
| | Darren Hollander | CEO | Workforce Africa | Human Resources Services | |
| | Darryl Theron | Owner | TronTechICT | Software or Technology Services | |
| | Darryn Van Den Berg | Visionary MD | Passion4Performance | Human Resources Services;Human Resources - Training;Entrepreneur;Educationalist;Founder | |
| | Darshani Persadh | Technical Co-Founder | DARJYO (PTY) LTD | Software or Technology Services | |
| | Dave Draper | | Chillzone Ice Arena | Founder | |
| | Dave Romero | Group CEO | Caban Investments | NA | |
| | David Brown | | Anyavox PTY LTD | NA | |
| | David Harte | Owner/ Inventor | Supa Socket | Entrepreneur | |
| | David Kruyer | Executive Chairman | Concargo Group Holdings (Pty) Ltd | Consultant - General | |
| | David Moerane | Non Executive director | Moerane Business Projects Pty Ltd | NA | |
| | David Rajak | Independent Debt Consultant | Independant | Investment Banking;Corporate Advisory;Consultant - General;Consultant - ESG;Dealmaker | |
| | David Sanni | Busines Development Director | Damars Group | NA | |
| | David Uwah | Chairman | ZNND Group | Project Management;Management;Entrepreneur | |
| | David Walstra | Founder and CEO | Seam Coffee (Pty) Ltd | Other | |
| | Davin Chown | Director | Genesis Infrastructure & RE Group | Dealmaker | |
| | Dawie Alberts | Business Development Director: Southern Africa | Ceva Logistics | Business Accelerator or Incubator | |
| | de villeneuve de villeneuve | ceo | COBASA | Investor - Corporate | |
| | DEBBIE SHARP | Managing Director | Recycle 4 Africa Group Holdings | Other | |
| | Debra Kureva | CEO & FOUNDER | Top Achievers Africa | Financial Services | |
| | Deliverance Tanyanyiwa | Software Engineer | South Africa | Software or Technology Services;Educationalist | |
| | Delly Kashala | General Manager | Basia Capital Partners | Marketing Services;Human Resources Services;Financial Services;Consultant - General;Accountant;Management | |
| | Delon Naidoo | Manager | NES Electrical Services | NA | |
| | Denika Jade Samuel | Self employed | Compu Tutor | Educationalist | |
| | Denise De Winnaar | Owner | R&A Dienste.(Pty) Ltd | Other | |
| | Denneys Leon Oosthuysen | Managing Director | JOB SA Engineering & Management | Dealmaker | |
| | Dennis Mosala Motata | | Gaonakala Projects | Real Estate Services | |
| | Dennis Sakupwanya | | BlackPearl Financial Group | NA | |
| | Denver April | CEO | Rand n Cent (Pty)Ltd | Entrepreneur | |
| | Deon Herselman | Owner | Patras Greek Kitchen | Sales | |
| | Deon Klerck | Director | Century 21 Plettenberg Bay | Investor - Personal;Real Estate Services;Sales | |
| | Deon Pretorius | Director | Pre Auto Electric | Investor - Personal | |
| | Derek Crompton | Owner | BizSoft | Software or Technology Services | |
| | Derek Thomas | Architect | Design Scape Architects | NA | |
| | Derick Allen | MD | Port2Africa | Software or Technology Services;Project Management;Import/Export | |
| | dermot quinn | CEO | Africa capital Solutions | Investment Banking;Financial Services;Trade Finance | |
| | Desiree botha` | director | Pss Agri | Other | |
| | Desiree Pillay | CEO | Pear Advisory | Financial Services;Consultant - General | |
| | Dharmendra Luksmidas | Director | AEVO Consulting Group | Corporate Advisory;Business Intelligence;Development Finance Institution;Analytics | |
| | Dhineshan Moodley | Founder and Director | SAI Management Solutions PTY Ltd | Software or Technology Services | |
| | Diaku Dianzenza | Freelancer and Activist | Nkalu Services | Marketing and Public Relations Services;NGO;Fund Administration;Agriculturalist/Farmer;Management | |
| | Diana Nyabongo | Head of S-RM South Africa | S-RM | Business Intelligence | |
| | Dieter Spangenberg | Partner | Ramakhu Projects and Trading | NA | |
| | Dingaan Matsimbi | Chief Executive Officer | Mhlengwe Group PTY LTD | Dealmaker | |
| | Dirk Uys Dirk Uys | Director | Olivee trading | Investor - Personal;Mining and Mining Services;Import/Export | |
| | Dirk van der Merwe | CFO | ICA Consulting | Consultant - General | |
| | Dlomo Patrick | Mining | Keyarina mineral solution | NA | |
| | DM Van Wyngaard | Director | Taxi Business Solutions (Pty)Ltd | Financial Services;Sales | |
| | Dodds Pringle | Man Dir | Vitagrate (Pty) Ltd | Mining and Mining Services;Import/Export | |
| | Dodds Pringle | Man Dir | Vitagrate (Pty) Ltd | Consultant - General;Mining and Mining Services;Project Management;Sales | |
| | Dominic Felix | General work | Bikermase Rentel | Entrepreneur | |
| | Donald Pillai | CEO | Genesis Tradeway International | Marketing Services;Marketing and Public Relations Services;Trade and Investment Promotion Agency;Project Management;Management;Company Executive;Import/Export | |
| | Dr Augusta Dorning | Head: Africa Business | Lenmed | Health Services | |
| | Dr Jasper Coetzee | Managing Director | AM-Tech Consulting Engineers | NA | |
| | Dr Tholsia Naidoo | Director | iWhiz | Educationalist | |
| | Dr. Ann Worth | Founder | Worth International | Trade and Investment Promotion Agency;Public Relations or Investment Relations or Communications;Founder | |
| | Drey Kenfack | Co-Founder, COO | egator | NA | |
| | Dries Terblanche | Project Director | Khinnawn | Business Intelligence | |
| | Duane Dennis | Managing Director | Painted Wolf Consulting (PTY) Ltd. | NA | |
| | Duncan Christie | Founder | Grow Africa | Entrepreneur | |
| | Duran Ashokumar | Managing director | Zululand Auto Glass ply Ltd | Other | |
| | dustin stollar | CEO | MoonBabyExchange | NA | |
| | Ebbe Rabie Ebbe Rabie | Managing Director | Price Forbes | NA | |
| | Eben Hattingh | Senior Sales Engineer | Rotork Africa | Sales | |
| | Eben Lubbe | Manager | Greenway Woods Resort | NA | |
| | Edeline Mutize | Director | Koshai Kollection | NA | |
| | Edmund Higenbottam | Managing Director | Verdant Capital | NA | |
| | Edmund Mushwana | Director | Bethesda Multipurpose | Corporate Advisory;Agriculturalist/Farmer;Company Executive | |
| | EDWIN MATJOMANE | Director | GLOBO-DINE trading and projects PTY LTD | Founder | |
| | Edwin Moloi | Director | True Pattern (Pty) Ltd | NA | |
| | Edwin Siebani | Vice President | Verdant Capital | Corporate Advisory | |
| | EELCO BLONK | MD fundraising | Alpha Volantis BV | NA | |
| | Elaine Alberts | MD | Energy Africa Recruitment | Human Resources Services | |
| | Elaine McManus | Owner | Twinkle Stars Preschool | Educationalist | |
| | Elijah Zulu | Director | ENERGYHATCH | NA | |
| | Elizabeth Haskins | Director | Homun Creative Consulting | Marketing Services | |
| | Elne Jacobs | Principle founder | Shiva uranium & gold | Mining and Mining Services | |
| | Elohay Cleaners | Social Enterpreneur | Elohay Cleaners | Other | |
| | Eloise Marais | Founder, MD | Creative Soul Sustainable Health and Living | Consultant - General;Business Intelligence | |
| | Elton Roupa | Global Head: Business Development | NKC African Economics | Research Analyst | |
| | Emanuel Germanis | Managing Director | Evolution Property Group | Other | |
| | Emile Rugamika Chimusa | Acting CEO and Owner | Omics Data Solutions | Software or Technology Services | |
| | Emily Masangani | Need funding | Banesihle Investment pty ltd | Other;Company Executive | |
| | Emmanuel Murumbi | CEO | JORDAN VALLEY PTY LTD | NA | |
| | Emmanuel Nkoana | Director | Kamoka Environmental Maintenance | NA | |
| | Enock Mangirande | CEO | Exousia Food and Beverage | Real Estate Services;Import/Export;Entrepreneur;Founder;Sales | |
| | Enock Maphike | CEO | Entertainment Stock Exchange | Trade Finance | |
| | Enock Moyo | Business Owner | Trainsure Consultancy Pty Ltd | Consultant - General;Human Resources - Training;Project Management;Educationalist | |
| | Enos Magwabeni | Entrepreneur | Promise Ventures | Dealmaker | |
| | Enrico Flavio | | ROCO CONSULTING | Consultant - General | |
| | Eric Cooper | CEO, | RS-Rubber Separations(PTY)Ltd | Entrepreneur | |
| | Eric Jacobson | Business development head | EJ Consulting | Human Resources - Training | |
| | Eric Mair | Africa Rep | Gravity Power LLC | Other | |
| | Erik van den Top | Strategy, Governance & Finance | Love Trust | NA | |
| | Erik van Niekerk | Director | Torque Development Company | Consultant - General;Chamber of Commerce;Management;Entrepreneur | |
| | Erin Nel | Senior Associate | Hatstone | Legal Services | |
| | ERNEST E Mashaba | DIRECTOR/ SHERQ MANAGER | Sakhasive Anthracite | Mining and Mining Services | |
| | Ernest Golaotswe Mogopodi | Director | Shrimp Selector Engineering and Construction | Engineer | |
| | eshley thebe | director | mafakudu general farming pty ltd | Other | |
| | Ethenne Kapank | Financial manager | Calvinia Wes Transport Pty | Import/Export;Entrepreneur | |
| | Etienne Steyn | Quantity surveyor | Dilmun development solutions | Consultant - General | |
| | Ettienne Joubert | Sales manager | Roxia | NA | |
| | Eugene Conradie | Founding Member & Business Leader | Africa First Industries | Dealmaker | |
| | Eugene du Plessis | Chief Investment Officer | Izwe Africa Group | NA | |
| | Eugene Kruss-Van Der Heever | Mr | RJP Food Tech Pty Ltd | Consultant - General | |
| | Eugene Taljaard | Business owner | Mbombela BioNutrients | Agriculturalist/Farmer;Project Management;Founder | |
| | Eugene van Rooyen | Business researcher | Eugene van Rooyen | Software or Technology Services | |
| | Eugene Viljoen | Owner | Buzz Bar | Other;Artist;Management;Entrepreneur | |
| | Evans Mutale | Manager | Marvin Crest Engineering services | Financial Services;Mining and Mining Services;Project Management;Engineer | |
| | Evariste Umba-Tsumbu | Main Director | 4IR Yako Consulting Services Pty Ltd | NGO;Mining and Mining Services;Entrepreneur;Engineer | |
| | Eveshwin Chetty | Director | Outrite Africa (Pty) Ltd | NA | |
| | Ewa Harcourt-Wood | Director | Intaba Capital | Investor - Institutional | |
| | Fanuel Mugaga | Technician | TECH2SMART | Software or Technology Services | |
| | Farai Ishmael Shumba | Director | Blossom Chemicals | Entrepreneur | |
| | Farook Mohammed | Artist and Director | Afro Arabian Empire | Artist | |
| | faseegh fortune | COO | fortune holdings | Other;Consultant - General;Project Management | |
| | FC de Vos | Chief Analytix Officer | Analytix Engine | Analytics | |
| | Feizel Matthews | Managing Director | Mercari SA Pty ltd | Consultant - General | |
| | Ferdi van Greunen | Director | Aldes Business Brokers | Dealmaker | |
| | Ferdie  Schneider | Chief Executive Officer | STA Konsult (Pty) Ltd | Financial Services | |
| | Fhumulani Netshishivhe | Chief executive officer | Mavambe Integrated projects | Marketing Services;Other;Fund Administration | |
| | Frampton Dube | Director | Region G Media | Legal Services;Marketing Services;Human Resources Services;Marketing and Public Relations Services;Investment Banking;Banking Services;NGO;Trade and Investment Promotion Agency;Development Bank;Consultant - General;Regulator;Government Official;Offshore Trust and Corporate Services;Business Intelligence;Chamber of Commerce;Regional Trade Organisation;Custodian and Securities Services;Trade Association;Professional Body with Members;Public Relations or Investment Relations or Communications;Software or Technology Services;Government Minister;Stockbroker;Research Analyst;Dealmaker;Development Finance Institution;Trade Finance;Fund Administration;Translation Services;Analytics;Human Resources - Training;Real Estate Services;Agriculturalist/Farmer;Mining and Mining Services;Project Management;Artist;Management;Entrepreneur;Educationalist;Founder;Journalist;Security Services;Sales | |
| | FRANCIS AGBODO-JNR | CEO | OFFSHORE INFRASTRUCTURE GROUP | Entrepreneur | |
| | Francis Ross | Creative Director | CNS Classic | NA | |
| | Francis Vorhies | Conservation economist | African Wildlife Economy Institute | Economist | |
| | Franck Leya | Founder & CEO | Honest Travel Experience | Human Resources Services;Trade and Investment Promotion Agency;Investor - Corporate | |
| | Franco Du Toit | Operations Manager | Gears Enterprise | NA | |
| | Francois Brytenbach | Farmer | Zenco enterprise | Agriculturalist/Farmer | |
| | Francois Engelbrecht | Founder | Sentinel IT DRP | Other;Regulator;Software or Technology Services;Analytics;Management | |
| | Francois Viljoen | Director | Cresco Group | Investment Banking | |
| | Frankleigh Godfrey | CEO | Veridian Diversified | Chamber of Commerce | |
| | Franklin Clement Rousseau Kenfack Nguefack | Director | African projects consulting LTD | Corporate Advisory;Consultant - General;Investor - Personal;Entrepreneur | |
| | François Conradie | Lead Political Economist | NKC African Economics | Economist | |
| | Fred Chipasha | Director | Finworth | NA | |
| | Freddie Cronje Cronje | | Prinspoort Boerdery CC | Agriculturalist/Farmer | |
| | Frieda Mbele | Director | 5th Dimension Investors | Trade and Investment Promotion Agency | |
| | Gabriel leavell | CEO | Founder | Dealmaker | |
| | Gabriel Lunda | Managing Director | Seedwealthgroup Pty LTD | Banking Services;NGO;Financial Services;Business Intelligence;Investor - Personal;Trade Finance;Economist;Real Estate Services;Management;Entrepreneur;Engineer | |
| | Galia Margalit | CA | N/A | Other | |
| | Gareth Christie | Founder | Liingo | Entrepreneur;Founder | |
| | Garry Mackay | Director | Phimola Environmental Solutions | Consultant - General | |
| | Garth Hilton | Director | Nicro Pump and Valves | Consultant - General | |
| | Garth McNamara | Operations executive | SA Metal | Marketing Services;Dealmaker;Company Executive | |
| | Gary Conway | Director | ATS | Corporate Advisory | |
| | Gary Hill | CEO | Hillson Drilling Pty Ltd | NA | |
| | Gary Petersen | Managing Director | Beespoke Africa Beehives | Agriculturalist/Farmer;Import/Export;Entrepreneur;Founder | |
| | Gary Petersen | Managing Director | PETERSEN'S | NA | |
| | Gary Taylor | | Zasendle Lodge | Company Executive | |
| | Gaspard de Villeneuve | partner | cobasa | NA | |
| | Gavin Eichler | CEO | Pure Nature Agri | Agriculturalist/Farmer;Founder | |
| | Gavin McInnes | Managing director | Compagnie Africaine des Wagons-Lits | Other | |
| | Gavin Young | MD | Zungu Elgin Engineering | NA | |
| | Gaynor Manuel | | Studio Blaque | Marketing Services | |
| | Geert De Decker | Owner | De Decker Forestry cc | NA | |
| | Gelani Dladla | Realtor | Project Manager | NGO;Real Estate Services;Project Management;Management;Founder | |
| | Geniniva Van Der Plank | Consultant / Director | After9 (Pty) Ltd | Consultant - General | |
| | Geniniva Van Der Plank | Consultant / Director | After9 (Pty) Ltd | Trade and Investment Promotion Agency;Consultant - General | |
| | GENO NSENGAMUNGU | MD | DEGEMA GLOBAL AND TRADE | Real Estate Services;Mining and Mining Services;Import/Export | |
| | Geo Bouwer | CEO | PandaRoc | Import/Export;Entrepreneur;Sales | |
| | George Debbo | Independent Telecommunications Consultant | George Debbo Telecom (Pty) Ltd | Consultant - General | |
| | George Kanyonganise | Director | Multi tech business school | Accountant;Development Finance Institution;Human Resources - Training;Educationalist | |
| | George Mahlaela | Executive Chairperson | Umkhongoma Investment Holdings (Pty) Ltd | Trade and Investment Promotion Agency | |
| | Gerald Barker | | Lait D'or Dairies | Consultant - General;Trade Finance | |
| | Gerald Govender | Business Owner | Giskae Group (Pty) Ltd | Entrepreneur;Engineer | |
| | Gerald Kishenyi Kishenyi | CEO | Damoso Direct Investment Projects | Investor - Institutional | |
| | Gerald Nel | MD | Grüner Energy Pty LTD | Other | |
| | Gerald Nel | Direcor | Infradeco | Other | |
| | Gerhard Visagie | CEO | AgVentures | Investor - Institutional | |
| | Gerrie De Jonge | Managing Director | Imperial Group: MD Axis Group International | Trade and Investment Promotion Agency | |
| | Gerrit Heyns | principal | 17africa | Other | |
| | Gerrit van der Merwe | Director | Gem Capital | Corporate Advisory | |
| | Gerrit van der Merwe | Director | Candor Governance | Consultant - ESG | |
| | Gerrit van Heerden | gerrie@thrivecomputers.co.za | Thrive Computers | Other;Dealmaker | |
| | Gian Negra | Owner | Bientang's Cave Restaurant & wine Bar | NA | |
| | Giancarlo Rodighiero | Shareholder, broker, mining sector | RODIGHIERO | Trade and Investment Promotion Agency;Dealmaker;Mining and Mining Services;Import/Export;Entrepreneur;Sales | |
| | Gigi Ngcobo | Investor Relations Manager | The Delta | NA | |
| | Given Phaladi | CEO | REGIVE CAPITAL (Pty) Ltd | Investor - Institutional | |
| | Given Rhulani Makhubele | Founder | UPtracking Solutions | Software or Technology Services | |
| | Glen Davies | Sales Manager - Capital Markets, SSA | FIS | Banking Services;Software or Technology Services;Analytics | |
| | Godfrey Sithole | Entrepreneur | Pvt Company | Other | |
| | Goitse Konopi | Founder & CEO | South Grown | NA | |
| | Gordon Hosking | Founder, Executive Director | Perpetual Advisory Group | Corporate Advisory | |
| | Gosiame Jacob Letlape | Business Development Director | RR6 Agrisolutions (Pty) Ltd | Agriculturalist/Farmer | |
| | GP Botha | Director | Agritech Farms (Pty) Ltd | Other | |
| | Graeme Buckley | Investment Analyst | GoGetta Limited | NA | |
| | Graham Rogoff | Business Development | Betapoint | Consultant - General;Real Estate Services;Project Management | |
| | Grant Abrahams | Owner | Grant Abrahams And Associates | Human Resources Services;Corporate Advisory;Business Intelligence;Investor - Personal;Investor - Institutional;Investor - Corporate;Research Analyst;Dealmaker;Fund Administration;Economist;Business Accelerator or Incubator;Management;Entrepreneur | |
| | Grant Impey | Senior Transaction associate | Benchmark International | NA | |
| | grant loch | owner | KYTER | Mining and Mining Services | |
| | Grant McLeod | SA Representative | Guernsey Finance | NA | |
| | Grant Veldkornet | Managing Director and CEO | Ideiol Holdings Pty Ltd | Human Resources Services;Software or Technology Services;Dealmaker;Human Resources - Training;Mining and Mining Services | |
| | Graça dos Santos | CEO | Monniques Group | Real Estate Services | |
| | Greg Morley | Business Development Director | Expeditus (Pty)Ltd | Business Intelligence | |
| | Gregory Naidoo | Director | FSS | Import/Export | |
| | Greg  Serandos | Managing Partner | Sausalito | Marketing Services;Marketing and Public Relations Services;Corporate Advisory;Banking Services;Financial Services;Consultant - General | |
| | Gugulethu Mabuza | Business Developer | Ecosense Development | Business Intelligence | |
| | gumani moila | | Turnupyourmic | NA | |
| | Haley Gray | CEO & Founder | Cut to Code | Software or Technology Services | |
| | Hannes Kroukamp | Mr | Grain Expo | Corporate Advisory;Agriculturalist/Farmer | |
| | Hannes van Wyk | Managing Director | Toll Infrastructure Services | Consultant - General | |
| | Hano Coetser | Managing Director | Enable Capital | Financial Services | |
| | Hano Coetser | Managing Director | Enable Capital | Financial Services;Trade Finance | |
| | Hans Hartung | Director | ILISO CONSULTING | Real Estate Services;Project Management;Entrepreneur;Engineer | |
| | Hans Karemaker | Executive Director | iX engineers (Pty) Ltd | Consultant - General | |
| | Happiness Mpase | Managing Director | HD N3twork | Entrepreneur | |
| | Hardi Wilkins | Director | Ziada Credit Solutions | NA | |
| | Harmony Mothibe | Director | BotsZA | NA | |
| | Haroon Cajee | CEO | Tradewise Holdings | Import/Export;Sales | |
| | CHRISTOPHER PRETORIUS | DIRECTOR | iNALA STORAGE | Management | |
| | Christopher van Heerden | Director | Brandwacht Breweries (PTY) Ltd | Other | |
| | Cindy Buser | Founder and Managing Director | Indian South Africa Chamber of Commerce(INSACC) | Other;Educationalist | |
| | Cindy Kleynhans | Director | Cifri Trading | NA | |
| | Cingembo Mqaqa | Chief Executive | Espin Connect | Entrepreneur | |
| | Ciska De Jonge | Director | Abilita Dinamiche Evoluzione | Educationalist | |
| | Claim E Mathieussika | | Clirz Comp | Software or Technology Services | |
| | Claire Alexander | Director | Africa Scotland Business Network | NA | |
| | Clarence Johnson | CEO | Johnson&LeRoux | Dealmaker;Import/Export | |
| | Clarissa Pillay | Associate Principal | Africa Rising Corporate Advisory | Corporate Advisory | |
| | Clifford Katisi | | Infinite agri investments | Agriculturalist/Farmer | |
| | Clifford Morwagae | Director | Sisu tec | Agriculturalist/Farmer | |
| | Clifford Mulozi | Chief Executive Officer | Cildel Trading and Consultancy Services (Pty) Ltd | Corporate Advisory;Consultant - General | |
| | Clinton Julius | CEO | JSRR Trading PTY LTD | Other | |
| | Clive Finniss | sales Engineer | Spress | Other | |
| | Cobus Truter | CEO | Indlu Living | Real Estate Services | |
| | Cobus Truter | CEO | IndluLiving | Other | |
| | Colette Symanowitz | Director Marketing, Digital, Business Development | FraudCracker.com | Software or Technology Services | |
| | Colin Human | CEO | Goalfix Financial Consultants and Modellers | Corporate Advisory | |
| | Colin Kannemeyer | Director | Kannemeyer Property Developers | NA | |
| | Colin Povey | MD | Sierra Global (Pty) Ltd | Import/Export | |
| | collen khoza | Manager | Afrikah Finance | Financial Services | |
| | Conny Ngobeni | farmer and manufacturer | Vutomi and Vutlharhi Trading Enterprise | NGO;Investor - Personal;Investor - Corporate | |
| | Conrad Arendse | Director: Business & Technical Development | Atlanthia (Pty) Ltd | Corporate Advisory;Consultant - General;Engineer | |
| | Craig Donaldson | Owner | Donaldson Farms (Pty) Ltd | Agriculturalist/Farmer;Founder | |
| | Craig Jamieson | Chairman/CEO | CMJ Capital Trding | Investor - Personal | |
| | Craig Jamieson | CEO / Chairman | CMJ Capital Trading | Development Finance Institution | |
| | Craig Turton | | Spud Africa | NA | |
| | Crosby Pamberi | CEO | Heritage Pay | Mining and Mining Services | |
| | Crosby Pamberi | CEO | Heritage Pay | Financial Services;Agriculturalist/Farmer;Mining and Mining Services | |
| | Cungu Kamau | Founder | Cungu Aviation | Founder | |
| | Cynthia Tladi | Director | Paulmo (Pty) Ltd | Other | |
| | Dabwitso Kasauka | Co-founder | Penny PTY | NA | |
| | Dale Holloway | Managing Director | Crowe DNA (Pty) Ltd | Human Resources Services | |
| | Daleen Engelbrecht | Transaction Executive | Benchmark International | NA | |
| | Damon Choudree | General Manager | 3D Micro SA | Software or Technology Services | |
| | Danie Grundlingh | Director | Ebenhaeser Engineering | Other | |
| | Daniel Berman | Independent Capital Markets Advisor | Fish Eagle Advisors | Corporate Advisory | |
| | Daniel Motshwane | Business Development Strategist | LFP GROUP | Consultant - ESG;Business Intelligence;Agriculturalist/Farmer | |
| | daniel tshiani | Director | Inet tech(pty) | Other;Trade Association;Investor - Corporate;Veterinarian;Agriculturalist/Farmer;Engineer | |
| | Danny van Niekerk Snr | Development/design | Trucktime Systems | Other | |
| | Daphne Koketso Hlatshwayo Hlatshwayo | Owner & co-founder | CYFE Legacy | Marketing Services;Business Intelligence;Artist;Company Executive;Health Services;Entrepreneur;Founder | |
| | Darlene Smith | Head of Strategy | Imbumba Foundation | NA | |
| | Darren Hollander | CEO | Workforce Africa | Human Resources Services | |
| | Darryl Theron | Owner | TronTechICT | Software or Technology Services | |
| | Darryn Van Den Berg | Visionary MD | Passion4Performance | Human Resources Services;Human Resources - Training;Entrepreneur;Educationalist;Founder | |
| | Darshani Persadh | Technical Co-Founder | DARJYO (PTY) LTD | Software or Technology Services | |
| | Dave Draper | | Chillzone Ice Arena | Founder | |
| | Dave Romero | Group CEO | Caban Investments | NA | |
| | David Brown | | Anyavox PTY LTD | NA | |
| | David Harte | Owner/ Inventor | Supa Socket | Entrepreneur | |
| | David Kruyer | Executive Chairman | Concargo Group Holdings (Pty) Ltd | Consultant - General | |
| | David Moerane | Non Executive director | Moerane Business Projects Pty Ltd | NA | |
| | David Rajak | Independent Debt Consultant | Independant | Investment Banking;Corporate Advisory;Consultant - General;Consultant - ESG;Dealmaker | |
| | David Sanni | Busines Development Director | Damars Group | NA | |
| | David Uwah | Chairman | ZNND Group | Project Management;Management;Entrepreneur | |
| | David Walstra | Founder and CEO | Seam Coffee (Pty) Ltd | Other | |
| | Davin Chown | Director | Genesis Infrastructure & RE Group | Dealmaker | |
| | Dawie Alberts | Business Development Director: Southern Africa | Ceva Logistics | Business Accelerator or Incubator | |
| | de villeneuve de villeneuve | ceo | COBASA | Investor - Corporate | |
| | DEBBIE SHARP | Managing Director | Recycle 4 Africa Group Holdings | Other | |
| | Debra Kureva | CEO & FOUNDER | Top Achievers Africa | Financial Services | |
| | Deliverance Tanyanyiwa | Software Engineer | South Africa | Software or Technology Services;Educationalist | |
| | Delly Kashala | General Manager | Basia Capital Partners | Marketing Services;Human Resources Services;Financial Services;Consultant - General;Accountant;Management | |
| | Delon Naidoo | Manager | NES Electrical Services | NA | |
| | Denika Jade Samuel | Self employed | Compu Tutor | Educationalist | |
| | Denise De Winnaar | Owner | R&A Dienste.(Pty) Ltd | Other | |
| | Denneys Leon Oosthuysen | Managing Director | JOB SA Engineering & Management | Dealmaker | |
| | Dennis Mosala Motata | | Gaonakala Projects | Real Estate Services | |
| | Dennis Sakupwanya | | BlackPearl Financial Group | NA | |
| | Denver April | CEO | Rand n Cent (Pty)Ltd | Entrepreneur | |
| | Deon Herselman | Owner | Patras Greek Kitchen | Sales | |
| | Deon Klerck | Director | Century 21 Plettenberg Bay | Investor - Personal;Real Estate Services;Sales | |
| | Deon Pretorius | Director | Pre Auto Electric | Investor - Personal | |
| | Derek Crompton | Owner | BizSoft | Software or Technology Services | |
| | Derek Thomas | Architect | Design Scape Architects | NA | |
| | Derick Allen | MD | Port2Africa | Software or Technology Services;Project Management;Import/Export | |
| | dermot quinn | CEO | Africa capital Solutions | Investment Banking;Financial Services;Trade Finance | |
| | Desiree botha` | director | Pss Agri | Other | |
| | Desiree Pillay | CEO | Pear Advisory | Financial Services;Consultant - General | |
| | Dharmendra Luksmidas | Director | AEVO Consulting Group | Corporate Advisory;Business Intelligence;Development Finance Institution;Analytics | |
| | Dhineshan Moodley | Founder and Director | SAI Management Solutions PTY Ltd | Software or Technology Services | |
| | Diaku Dianzenza | Freelancer and Activist | Nkalu Services | Marketing and Public Relations Services;NGO;Fund Administration;Agriculturalist/Farmer;Management | |
| | Diana Nyabongo | Head of S-RM South Africa | S-RM | Business Intelligence | |
| | Dieter Spangenberg | Partner | Ramakhu Projects and Trading | NA | |
| | Dingaan Matsimbi | Chief Executive Officer | Mhlengwe Group PTY LTD | Dealmaker | |
| | Dirk Uys Dirk Uys | Director | Olivee trading | Investor - Personal;Mining and Mining Services;Import/Export | |
| | Dirk van der Merwe | CFO | ICA Consulting | Consultant - General | |
| | Dlomo Patrick | Mining | Keyarina mineral solution | NA | |
| | DM Van Wyngaard | Director | Taxi Business Solutions (Pty)Ltd | Financial Services;Sales | |
| | Dodds Pringle | Man Dir | Vitagrate (Pty) Ltd | Mining and Mining Services;Import/Export | |
| | Dodds Pringle | Man Dir | Vitagrate (Pty) Ltd | Consultant - General;Mining and Mining Services;Project Management;Sales | |
| | Dominic Felix | General work | Bikermase Rentel | Entrepreneur | |
| | Donald Pillai | CEO | Genesis Tradeway International | Marketing Services;Marketing and Public Relations Services;Trade and Investment Promotion Agency;Project Management;Management;Company Executive;Import/Export | |
| | Dr Augusta Dorning | Head: Africa Business | Lenmed | Health Services | |
| | Dr Jasper Coetzee | Managing Director | AM-Tech Consulting Engineers | NA | |
| | Dr Tholsia Naidoo | Director | iWhiz | Educationalist | |
| | Dr. Ann Worth | Founder | Worth International | Trade and Investment Promotion Agency;Public Relations or Investment Relations or Communications;Founder | |
| | Drey Kenfack | Co-Founder, COO | egator | NA | |
| | Dries Terblanche | Project Director | Khinnawn | Business Intelligence | |
| | Duane Dennis | Managing Director | Painted Wolf Consulting (PTY) Ltd. | NA | |
| | Duncan Christie | Founder | Grow Africa | Entrepreneur | |
| | Duran Ashokumar | Managing director | Zululand Auto Glass ply Ltd | Other | |
| | dustin stollar | CEO | MoonBabyExchange | NA | |
| | Ebbe Rabie Ebbe Rabie | Managing Director | Price Forbes | NA | |
| | Eben Hattingh | Senior Sales Engineer | Rotork Africa | Sales | |
| | Eben Lubbe | Manager | Greenway Woods Resort | NA | |
| | Edeline Mutize | Director | Koshai Kollection | NA | |
| | Edmund Higenbottam | Managing Director | Verdant Capital | NA | |
| | Edmund Mushwana | Director | Bethesda Multipurpose | Corporate Advisory;Agriculturalist/Farmer;Company Executive | |
| | EDWIN MATJOMANE | Director | GLOBO-DINE trading and projects PTY LTD | Founder | |
| | Edwin Moloi | Director | True Pattern (Pty) Ltd | NA | |
| | Edwin Siebani | Vice President | Verdant Capital | Corporate Advisory | |
| | EELCO BLONK | MD fundraising | Alpha Volantis BV | NA | |
| | Elaine Alberts | MD | Energy Africa Recruitment | Human Resources Services | |
| | Elaine McManus | Owner | Twinkle Stars Preschool | Educationalist | |
| | Elijah Zulu | Director | ENERGYHATCH | NA | |
| | Elizabeth Haskins | Director | Homun Creative Consulting | Marketing Services | |
| | Elne Jacobs | Principle founder | Shiva uranium & gold | Mining and Mining Services | |
| | Elohay Cleaners | Social Enterpreneur | Elohay Cleaners | Other | |
| | Eloise Marais | Founder, MD | Creative Soul Sustainable Health and Living | Consultant - General;Business Intelligence | |
| | Elton Roupa | Global Head: Business Development | NKC African Economics | Research Analyst | |
| | Emanuel Germanis | Managing Director | Evolution Property Group | Other | |
| | Emile Rugamika Chimusa | Acting CEO and Owner | Omics Data Solutions | Software or Technology Services | |
| | Emily Masangani | Need funding | Banesihle Investment pty ltd | Other;Company Executive | |
| | Emmanuel Murumbi | CEO | JORDAN VALLEY PTY LTD | NA | |
| | Emmanuel Nkoana | Director | Kamoka Environmental Maintenance | NA | |
| | Enock Mangirande | CEO | Exousia Food and Beverage | Real Estate Services;Import/Export;Entrepreneur;Founder;Sales | |
| | Enock Maphike | CEO | Entertainment Stock Exchange | Trade Finance | |
| | Enock Moyo | Business Owner | Trainsure Consultancy Pty Ltd | Consultant - General;Human Resources - Training;Project Management;Educationalist | |
| | Enos Magwabeni | Entrepreneur | Promise Ventures | Dealmaker | |
| | Enrico Flavio | | ROCO CONSULTING | Consultant - General | |
| | Eric Cooper | CEO, | RS-Rubber Separations(PTY)Ltd | Entrepreneur | |
| | Eric Jacobson | Business development head | EJ Consulting | Human Resources - Training | |
| | Eric Mair | Africa Rep | Gravity Power LLC | Other | |
| | Erik van den Top | Strategy, Governance & Finance | Love Trust | NA | |
| | Erik van Niekerk | Director | Torque Development Company | Consultant - General;Chamber of Commerce;Management;Entrepreneur | |
| | Erin Nel | Senior Associate | Hatstone | Legal Services | |
| | ERNEST E Mashaba | DIRECTOR/ SHERQ MANAGER | Sakhasive Anthracite | Mining and Mining Services | |
| | Ernest Golaotswe Mogopodi | Director | Shrimp Selector Engineering and Construction | Engineer | |
| | eshley thebe | director | mafakudu general farming pty ltd | Other | |
| | Ethenne Kapank | Financial manager | Calvinia Wes Transport Pty | Import/Export;Entrepreneur | |
| | Etienne Steyn | Quantity surveyor | Dilmun development solutions | Consultant - General | |
| | Ettienne Joubert | Sales manager | Roxia | NA | |
| | Eugene Conradie | Founding Member & Business Leader | Africa First Industries | Dealmaker | |
| | Eugene du Plessis | Chief Investment Officer | Izwe Africa Group | NA | |
| | Eugene Kruss-Van Der Heever | Mr | RJP Food Tech Pty Ltd | Consultant - General | |
| | Eugene Taljaard | Business owner | Mbombela BioNutrients | Agriculturalist/Farmer;Project Management;Founder | |
| | Eugene van Rooyen | Business researcher | Eugene van Rooyen | Software or Technology Services | |
| | Eugene Viljoen | Owner | Buzz Bar | Other;Artist;Management;Entrepreneur | |
| | Evans Mutale | Manager | Marvin Crest Engineering services | Financial Services;Mining and Mining Services;Project Management;Engineer | |
| | Evariste Umba-Tsumbu | Main Director | 4IR Yako Consulting Services Pty Ltd | NGO;Mining and Mining Services;Entrepreneur;Engineer | |
| | Eveshwin Chetty | Director | Outrite Africa (Pty) Ltd | NA | |
| | Ewa Harcourt-Wood | Director | Intaba Capital | Investor - Institutional | |
| | Fanuel Mugaga | Technician | TECH2SMART | Software or Technology Services | |
| | Farai Ishmael Shumba | Director | Blossom Chemicals | Entrepreneur | |
| | Farook Mohammed | Artist and Director | Afro Arabian Empire | Artist | |
| | faseegh fortune | COO | fortune holdings | Other;Consultant - General;Project Management | |
| | FC de Vos | Chief Analytix Officer | Analytix Engine | Analytics | |
| | Feizel Matthews | Managing Director | Mercari SA Pty ltd | Consultant - General | |
| | Ferdi van Greunen | Director | Aldes Business Brokers | Dealmaker | |
| | Ferdie  Schneider | Chief Executive Officer | STA Konsult (Pty) Ltd | Financial Services | |
| | Fhumulani Netshishivhe | Chief executive officer | Mavambe Integrated projects | Marketing Services;Other;Fund Administration | |
| | Frampton Dube | Director | Region G Media | Legal Services;Marketing Services;Human Resources Services;Marketing and Public Relations Services;Investment Banking;Banking Services;NGO;Trade and Investment Promotion Agency;Development Bank;Consultant - General;Regulator;Government Official;Offshore Trust and Corporate Services;Business Intelligence;Chamber of Commerce;Regional Trade Organisation;Custodian and Securities Services;Trade Association;Professional Body with Members;Public Relations or Investment Relations or Communications;Software or Technology Services;Government Minister;Stockbroker;Research Analyst;Dealmaker;Development Finance Institution;Trade Finance;Fund Administration;Translation Services;Analytics;Human Resources - Training;Real Estate Services;Agriculturalist/Farmer;Mining and Mining Services;Project Management;Artist;Management;Entrepreneur;Educationalist;Founder;Journalist;Security Services;Sales | |
| | FRANCIS AGBODO-JNR | CEO | OFFSHORE INFRASTRUCTURE GROUP | Entrepreneur | |
| | Francis Ross | Creative Director | CNS Classic | NA | |
| | Francis Vorhies | Conservation economist | African Wildlife Economy Institute | Economist | |
| | Franck Leya | Founder & CEO | Honest Travel Experience | Human Resources Services;Trade and Investment Promotion Agency;Investor - Corporate | |
| | Franco Du Toit | Operations Manager | Gears Enterprise | NA | |
| | Francois Brytenbach | Farmer | Zenco enterprise | Agriculturalist/Farmer | |
| | Francois Engelbrecht | Founder | Sentinel IT DRP | Other;Regulator;Software or Technology Services;Analytics;Management | |
| | Francois Viljoen | Director | Cresco Group | Investment Banking | |
| | Frankleigh Godfrey | CEO | Veridian Diversified | Chamber of Commerce | |
| | Franklin Clement Rousseau Kenfack Nguefack | Director | African projects consulting LTD | Corporate Advisory;Consultant - General;Investor - Personal;Entrepreneur | |
| | François Conradie | Lead Political Economist | NKC African Economics | Economist | |
| | Fred Chipasha | Director | Finworth | NA | |
| | Freddie Cronje Cronje | | Prinspoort Boerdery CC | Agriculturalist/Farmer | |
| | Frieda Mbele | Director | 5th Dimension Investors | Trade and Investment Promotion Agency | |
| | Gabriel leavell | CEO | Founder | Dealmaker | |
| | Gabriel Lunda | Managing Director | Seedwealthgroup Pty LTD | Banking Services;NGO;Financial Services;Business Intelligence;Investor - Personal;Trade Finance;Economist;Real Estate Services;Management;Entrepreneur;Engineer | |
| | Galia Margalit | CA | N/A | Other | |
| | Gareth Christie | Founder | Liingo | Entrepreneur;Founder | |
| | Garry Mackay | Director | Phimola Environmental Solutions | Consultant - General | |
| | Garth Hilton | Director | Nicro Pump and Valves | Consultant - General | |
| | Garth McNamara | Operations executive | SA Metal | Marketing Services;Dealmaker;Company Executive | |
| | Gary Conway | Director | ATS | Corporate Advisory | |
| | Gary Hill | CEO | Hillson Drilling Pty Ltd | NA | |
| | Gary Petersen | Managing Director | Beespoke Africa Beehives | Agriculturalist/Farmer;Import/Export;Entrepreneur;Founder | |
| | Gary Petersen | Managing Director | PETERSEN'S | NA | |
| | Gary Taylor | | Zasendle Lodge | Company Executive | |
| | Gaspard de Villeneuve | partner | cobasa | NA | |
| | Gavin Eichler | CEO | Pure Nature Agri | Agriculturalist/Farmer;Founder | |
| | Gavin McInnes | Managing director | Compagnie Africaine des Wagons-Lits | Other | |
| | Gavin Young | MD | Zungu Elgin Engineering | NA | |
| | Gaynor Manuel | | Studio Blaque | Marketing Services | |
| | Geert De Decker | Owner | De Decker Forestry cc | NA | |
| | Gelani Dladla | Realtor | Project Manager | NGO;Real Estate Services;Project Management;Management;Founder | |
| | Geniniva Van Der Plank | Consultant / Director | After9 (Pty) Ltd | Consultant - General | |
| | Geniniva Van Der Plank | Consultant / Director | After9 (Pty) Ltd | Trade and Investment Promotion Agency;Consultant - General | |
| | GENO NSENGAMUNGU | MD | DEGEMA GLOBAL AND TRADE | Real Estate Services;Mining and Mining Services;Import/Export | |
| | Geo Bouwer | CEO | PandaRoc | Import/Export;Entrepreneur;Sales | |
| | George Debbo | Independent Telecommunications Consultant | George Debbo Telecom (Pty) Ltd | Consultant - General | |
| | George Kanyonganise | Director | Multi tech business school | Accountant;Development Finance Institution;Human Resources - Training;Educationalist | |
| | George Mahlaela | Executive Chairperson | Umkhongoma Investment Holdings (Pty) Ltd | Trade and Investment Promotion Agency | |
| | Gerald Barker | | Lait D'or Dairies | Consultant - General;Trade Finance | |
| | Gerald Govender | Business Owner | Giskae Group (Pty) Ltd | Entrepreneur;Engineer | |
| | Gerald Kishenyi Kishenyi | CEO | Damoso Direct Investment Projects | Investor - Institutional | |
| | Gerald Nel | MD | Grüner Energy Pty LTD | Other | |
| | Gerald Nel | Direcor | Infradeco | Other | |
| | Gerhard Visagie | CEO | AgVentures | Investor - Institutional | |
| | Gerrie De Jonge | Managing Director | Imperial Group: MD Axis Group International | Trade and Investment Promotion Agency | |
| | Gerrit Heyns | principal | 17africa | Other | |
| | Gerrit van der Merwe | Director | Gem Capital | Corporate Advisory | |
| | Gerrit van der Merwe | Director | Candor Governance | Consultant - ESG | |
| | Gerrit van Heerden | gerrie@thrivecomputers.co.za | Thrive Computers | Other;Dealmaker | |
| | Gian Negra | Owner | Bientang's Cave Restaurant & wine Bar | NA | |
| | Giancarlo Rodighiero | Shareholder, broker, mining sector | RODIGHIERO | Trade and Investment Promotion Agency;Dealmaker;Mining and Mining Services;Import/Export;Entrepreneur;Sales | |
| | Gigi Ngcobo | Investor Relations Manager | The Delta | NA | |
| | Given Phaladi | CEO | REGIVE CAPITAL (Pty) Ltd | Investor - Institutional | |
| | Given Rhulani Makhubele | Founder | UPtracking Solutions | Software or Technology Services | |
| | Glen Davies | Sales Manager - Capital Markets, SSA | FIS | Banking Services;Software or Technology Services;Analytics | |
| | Godfrey Sithole | Entrepreneur | Pvt Company | Other | |
| | Goitse Konopi | Founder & CEO | South Grown | NA | |
| | Gordon Hosking | Founder, Executive Director | Perpetual Advisory Group | Corporate Advisory | |
| | Gosiame Jacob Letlape | Business Development Director | RR6 Agrisolutions (Pty) Ltd | Agriculturalist/Farmer | |
| | GP Botha | Director | Agritech Farms (Pty) Ltd | Other | |
| | Graeme Buckley | Investment Analyst | GoGetta Limited | NA | |
| | Graham Rogoff | Business Development | Betapoint | Consultant - General;Real Estate Services;Project Management | |
| | Grant Abrahams | Owner | Grant Abrahams And Associates | Human Resources Services;Corporate Advisory;Business Intelligence;Investor - Personal;Investor - Institutional;Investor - Corporate;Research Analyst;Dealmaker;Fund Administration;Economist;Business Accelerator or Incubator;Management;Entrepreneur | |
| | Grant Impey | Senior Transaction associate | Benchmark International | NA | |
| | grant loch | owner | KYTER | Mining and Mining Services | |
| | Grant McLeod | SA Representative | Guernsey Finance | NA | |
| | Grant Veldkornet | Managing Director and CEO | Ideiol Holdings Pty Ltd | Human Resources Services;Software or Technology Services;Dealmaker;Human Resources - Training;Mining and Mining Services | |
| | Graça dos Santos | CEO | Monniques Group | Real Estate Services | |
| | Greg Morley | Business Development Director | Expeditus (Pty)Ltd | Business Intelligence | |
| | Gregory Naidoo | Director | FSS | Import/Export | |
| | Greg  Serandos | Managing Partner | Sausalito | Marketing Services;Marketing and Public Relations Services;Corporate Advisory;Banking Services;Financial Services;Consultant - General | |
| | Gugulethu Mabuza | Business Developer | Ecosense Development | Business Intelligence | |
| | gumani moila | | Turnupyourmic | NA | |
| | Haley Gray | CEO & Founder | Cut to Code | Software or Technology Services | |
| | Hannes Kroukamp | Mr | Grain Expo | Corporate Advisory;Agriculturalist/Farmer | |
| | Hannes van Wyk | Managing Director | Toll Infrastructure Services | Consultant - General | |
| | Hano Coetser | Managing Director | Enable Capital | Financial Services | |
| | Hano Coetser | Managing Director | Enable Capital | Financial Services;Trade Finance | |
| | Hans Hartung | Director | ILISO CONSULTING | Real Estate Services;Project Management;Entrepreneur;Engineer | |
| | Hans Karemaker | Executive Director | iX engineers (Pty) Ltd | Consultant - General | |
| | Happiness Mpase | Managing Director | HD N3twork | Entrepreneur | |
| | Hardi Wilkins | Director | Ziada Credit Solutions | NA | |
| | Harmony Mothibe | Director | BotsZA | NA | |
| | Haroon Cajee | CEO | Tradewise Holdings | Import/Export;Sales | |
| | CHRISTOPHER PRETORIUS | DIRECTOR | iNALA STORAGE | Management | |
| | Christopher van Heerden | Director | Brandwacht Breweries (PTY) Ltd | Other | |
| | Cindy Buser | Founder and Managing Director | Indian South Africa Chamber of Commerce(INSACC) | Other;Educationalist | |
| | Cindy Kleynhans | Director | Cifri Trading | NA | |
| | Cingembo Mqaqa | Chief Executive | Espin Connect | Entrepreneur | |
| | Ciska De Jonge | Director | Abilita Dinamiche Evoluzione | Educationalist | |
| | Claim E Mathieussika | | Clirz Comp | Software or Technology Services | |
| | Claire Alexander | Director | Africa Scotland Business Network | NA | |
| | Clarence Johnson | CEO | Johnson&LeRoux | Dealmaker;Import/Export | |
| | Clarissa Pillay | Associate Principal | Africa Rising Corporate Advisory | Corporate Advisory | |
| | Clifford Katisi | | Infinite agri investments | Agriculturalist/Farmer | |
| | Clifford Morwagae | Director | Sisu tec | Agriculturalist/Farmer | |
| | Clifford Mulozi | Chief Executive Officer | Cildel Trading and Consultancy Services (Pty) Ltd | Corporate Advisory;Consultant - General | |
| | Clinton Julius | CEO | JSRR Trading PTY LTD | Other | |
| | Clive Finniss | sales Engineer | Spress | Other | |
| | Cobus Truter | CEO | Indlu Living | Real Estate Services | |
| | Cobus Truter | CEO | IndluLiving | Other | |
| | Colette Symanowitz | Director Marketing, Digital, Business Development | FraudCracker.com | Software or Technology Services | |
| | Colin Human | CEO | Goalfix Financial Consultants and Modellers | Corporate Advisory | |
| | Colin Kannemeyer | Director | Kannemeyer Property Developers | NA | |
| | Colin Povey | MD | Sierra Global (Pty) Ltd | Import/Export | |
| | collen khoza | Manager | Afrikah Finance | Financial Services | |
| | Conny Ngobeni | farmer and manufacturer | Vutomi and Vutlharhi Trading Enterprise | NGO;Investor - Personal;Investor - Corporate | |
| | Conrad Arendse | Director: Business & Technical Development | Atlanthia (Pty) Ltd | Corporate Advisory;Consultant - General;Engineer | |
| | Craig Donaldson | Owner | Donaldson Farms (Pty) Ltd | Agriculturalist/Farmer;Founder | |
| | Craig Jamieson | Chairman/CEO | CMJ Capital Trding | Investor - Personal | |
| | Craig Jamieson | CEO / Chairman | CMJ Capital Trading | Development Finance Institution | |
| | Craig Turton | | Spud Africa | NA | |
| | Crosby Pamberi | CEO | Heritage Pay | Mining and Mining Services | |
| | Crosby Pamberi | CEO | Heritage Pay | Financial Services;Agriculturalist/Farmer;Mining and Mining Services | |
| | Cungu Kamau | Founder | Cungu Aviation | Founder | |
| | Cynthia Tladi | Director | Paulmo (Pty) Ltd | Other | |
| | Dabwitso Kasauka | Co-founder | Penny PTY | NA | |
| | Dale Holloway | Managing Director | Crowe DNA (Pty) Ltd | Human Resources Services | |
| | Daleen Engelbrecht | Transaction Executive | Benchmark International | NA | |
| | Damon Choudree | General Manager | 3D Micro SA | Software or Technology Services | |
| | Danie Grundlingh | Director | Ebenhaeser Engineering | Other | |
| | Daniel Berman | Independent Capital Markets Advisor | Fish Eagle Advisors | Corporate Advisory | |
| | Daniel Motshwane | Business Development Strategist | LFP GROUP | Consultant - ESG;Business Intelligence;Agriculturalist/Farmer | |
| | daniel tshiani | Director | Inet tech(pty) | Other;Trade Association;Investor - Corporate;Veterinarian;Agriculturalist/Farmer;Engineer | |
| | Danny van Niekerk Snr | Development/design | Trucktime Systems | Other | |
| | Daphne Koketso Hlatshwayo Hlatshwayo | Owner & co-founder | CYFE Legacy | Marketing Services;Business Intelligence;Artist;Company Executive;Health Services;Entrepreneur;Founder | |
| | Darlene Smith | Head of Strategy | Imbumba Foundation | NA | |
| | Darren Hollander | CEO | Workforce Africa | Human Resources Services | |
| | Darryl Theron | Owner | TronTechICT | Software or Technology Services | |
| | Darryn Van Den Berg | Visionary MD | Passion4Performance | Human Resources Services;Human Resources - Training;Entrepreneur;Educationalist;Founder | |
| | Darshani Persadh | Technical Co-Founder | DARJYO (PTY) LTD | Software or Technology Services | |
| | Dave Draper | | Chillzone Ice Arena | Founder | |
| | Dave Romero | Group CEO | Caban Investments | NA | |
| | David Brown | | Anyavox PTY LTD | NA | |
| | David Harte | Owner/ Inventor | Supa Socket | Entrepreneur | |
| | David Kruyer | Executive Chairman | Concargo Group Holdings (Pty) Ltd | Consultant - General | |
| | David Moerane | Non Executive director | Moerane Business Projects Pty Ltd | NA | |
| | David Rajak | Independent Debt Consultant | Independant | Investment Banking;Corporate Advisory;Consultant - General;Consultant - ESG;Dealmaker | |
| | David Sanni | Busines Development Director | Damars Group | NA | |
| | David Uwah | Chairman | ZNND Group | Project Management;Management;Entrepreneur | |
| | David Walstra | Founder and CEO | Seam Coffee (Pty) Ltd | Other | |
| | Davin Chown | Director | Genesis Infrastructure & RE Group | Dealmaker | |
| | Dawie Alberts | Business Development Director: Southern Africa | Ceva Logistics | Business Accelerator or Incubator | |
| | de villeneuve de villeneuve | ceo | COBASA | Investor - Corporate | |
| | DEBBIE SHARP | Managing Director | Recycle 4 Africa Group Holdings | Other | |
| | Debra Kureva | CEO & FOUNDER | Top Achievers Africa | Financial Services | |
| | Deliverance Tanyanyiwa | Software Engineer | South Africa | Software or Technology Services;Educationalist | |
| | Delly Kashala | General Manager | Basia Capital Partners | Marketing Services;Human Resources Services;Financial Services;Consultant - General;Accountant;Management | |
| | Delon Naidoo | Manager | NES Electrical Services | NA | |
| | Denika Jade Samuel | Self employed | Compu Tutor | Educationalist | |
| | Denise De Winnaar | Owner | R&A Dienste.(Pty) Ltd | Other | |
| | Denneys Leon Oosthuysen | Managing Director | JOB SA Engineering & Management | Dealmaker | |
| | Dennis Mosala Motata | | Gaonakala Projects | Real Estate Services | |
| | Dennis Sakupwanya | | BlackPearl Financial Group | NA | |
| | Denver April | CEO | Rand n Cent (Pty)Ltd | Entrepreneur | |
| | Deon Herselman | Owner | Patras Greek Kitchen | Sales | |
| | Deon Klerck | Director | Century 21 Plettenberg Bay | Investor - Personal;Real Estate Services;Sales | |
| | Deon Pretorius | Director | Pre Auto Electric | Investor - Personal | |
| | Derek Crompton | Owner | BizSoft | Software or Technology Services | |
| | Derek Thomas | Architect | Design Scape Architects | NA | |
| | Derick Allen | MD | Port2Africa | Software or Technology Services;Project Management;Import/Export | |
| | dermot quinn | CEO | Africa capital Solutions | Investment Banking;Financial Services;Trade Finance | |
| | Desiree botha` | director | Pss Agri | Other | |
| | Desiree Pillay | CEO | Pear Advisory | Financial Services;Consultant - General | |
| | Dharmendra Luksmidas | Director | AEVO Consulting Group | Corporate Advisory;Business Intelligence;Development Finance Institution;Analytics | |
| | Dhineshan Moodley | Founder and Director | SAI Management Solutions PTY Ltd | Software or Technology Services | |
| | Diaku Dianzenza | Freelancer and Activist | Nkalu Services | Marketing and Public Relations Services;NGO;Fund Administration;Agriculturalist/Farmer;Management | |
| | Diana Nyabongo | Head of S-RM South Africa | S-RM | Business Intelligence | |
| | Dieter Spangenberg | Partner | Ramakhu Projects and Trading | NA | |
| | Dingaan Matsimbi | Chief Executive Officer | Mhlengwe Group PTY LTD | Dealmaker | |
| | Dirk Uys Dirk Uys | Director | Olivee trading | Investor - Personal;Mining and Mining Services;Import/Export | |
| | Dirk van der Merwe | CFO | ICA Consulting | Consultant - General | |
| | Dlomo Patrick | Mining | Keyarina mineral solution | NA | |
| | DM Van Wyngaard | Director | Taxi Business Solutions (Pty)Ltd | Financial Services;Sales | |
| | Dodds Pringle | Man Dir | Vitagrate (Pty) Ltd | Mining and Mining Services;Import/Export | |
| | Dodds Pringle | Man Dir | Vitagrate (Pty) Ltd | Consultant - General;Mining and Mining Services;Project Management;Sales | |
| | Dominic Felix | General work | Bikermase Rentel | Entrepreneur | |
| | Donald Pillai | CEO | Genesis Tradeway International | Marketing Services;Marketing and Public Relations Services;Trade and Investment Promotion Agency;Project Management;Management;Company Executive;Import/Export | |
| | Dr Augusta Dorning | Head: Africa Business | Lenmed | Health Services | |
| | Dr Jasper Coetzee | Managing Director | AM-Tech Consulting Engineers | NA | |
| | Dr Tholsia Naidoo | Director | iWhiz | Educationalist | |
| | Dr. Ann Worth | Founder | Worth International | Trade and Investment Promotion Agency;Public Relations or Investment Relations or Communications;Founder | |
| | Drey Kenfack | Co-Founder, COO | egator | NA | |
| | Dries Terblanche | Project Director | Khinnawn | Business Intelligence | |
| | Duane Dennis | Managing Director | Painted Wolf Consulting (PTY) Ltd. | NA | |
| | Duncan Christie | Founder | Grow Africa | Entrepreneur | |
| | Duran Ashokumar | Managing director | Zululand Auto Glass ply Ltd | Other | |
| | dustin stollar | CEO | MoonBabyExchange | NA | |
| | Ebbe Rabie Ebbe Rabie | Managing Director | Price Forbes | NA | |
| | Eben Hattingh | Senior Sales Engineer | Rotork Africa | Sales | |
| | Eben Lubbe | Manager | Greenway Woods Resort | NA | |
| | Edeline Mutize | Director | Koshai Kollection | NA | |
| | Edmund Higenbottam | Managing Director | Verdant Capital | NA | |
| | Edmund Mushwana | Director | Bethesda Multipurpose | Corporate Advisory;Agriculturalist/Farmer;Company Executive | |
| | EDWIN MATJOMANE | Director | GLOBO-DINE trading and projects PTY LTD | Founder | |
| | Edwin Moloi | Director | True Pattern (Pty) Ltd | NA | |
| | Edwin Siebani | Vice President | Verdant Capital | Corporate Advisory | |
| | EELCO BLONK | MD fundraising | Alpha Volantis BV | NA | |
| | Elaine Alberts | MD | Energy Africa Recruitment | Human Resources Services | |
| | Elaine McManus | Owner | Twinkle Stars Preschool | Educationalist | |
| | Elijah Zulu | Director | ENERGYHATCH | NA | |
| | Elizabeth Haskins | Director | Homun Creative Consulting | Marketing Services | |
| | Elne Jacobs | Principle founder | Shiva uranium & gold | Mining and Mining Services | |
| | Elohay Cleaners | Social Enterpreneur | Elohay Cleaners | Other | |
| | Eloise Marais | Founder, MD | Creative Soul Sustainable Health and Living | Consultant - General;Business Intelligence | |
| | Elton Roupa | Global Head: Business Development | NKC African Economics | Research Analyst | |
| | Emanuel Germanis | Managing Director | Evolution Property Group | Other | |
| | Emile Rugamika Chimusa | Acting CEO and Owner | Omics Data Solutions | Software or Technology Services | |
| | Emily Masangani | Need funding | Banesihle Investment pty ltd | Other;Company Executive | |
| | Emmanuel Murumbi | CEO | JORDAN VALLEY PTY LTD | NA | |
| | Emmanuel Nkoana | Director | Kamoka Environmental Maintenance | NA | |
| | Enock Mangirande | CEO | Exousia Food and Beverage | Real Estate Services;Import/Export;Entrepreneur;Founder;Sales | |
| | Enock Maphike | CEO | Entertainment Stock Exchange | Trade Finance | |
| | Enock Moyo | Business Owner | Trainsure Consultancy Pty Ltd | Consultant - General;Human Resources - Training;Project Management;Educationalist | |
| | Enos Magwabeni | Entrepreneur | Promise Ventures | Dealmaker | |
| | Enrico Flavio | | ROCO CONSULTING | Consultant - General | |
| | Eric Cooper | CEO, | RS-Rubber Separations(PTY)Ltd | Entrepreneur | |
| | Eric Jacobson | Business development head | EJ Consulting | Human Resources - Training | |
| | Eric Mair | Africa Rep | Gravity Power LLC | Other | |
| | Erik van den Top | Strategy, Governance & Finance | Love Trust | NA | |
| | Erik van Niekerk | Director | Torque Development Company | Consultant - General;Chamber of Commerce;Management;Entrepreneur | |
| | Erin Nel | Senior Associate | Hatstone | Legal Services | |
| | ERNEST E Mashaba | DIRECTOR/ SHERQ MANAGER | Sakhasive Anthracite | Mining and Mining Services | |
| | Ernest Golaotswe Mogopodi | Director | Shrimp Selector Engineering and Construction | Engineer | |
| | eshley thebe | director | mafakudu general farming pty ltd | Other | |
| | Ethenne Kapank | Financial manager | Calvinia Wes Transport Pty | Import/Export;Entrepreneur | |
| | Etienne Steyn | Quantity surveyor | Dilmun development solutions | Consultant - General | |
| | Ettienne Joubert | Sales manager | Roxia | NA | |
| | Eugene Conradie | Founding Member & Business Leader | Africa First Industries | Dealmaker | |
| | Eugene du Plessis | Chief Investment Officer | Izwe Africa Group | NA | |
| | Eugene Kruss-Van Der Heever | Mr | RJP Food Tech Pty Ltd | Consultant - General | |
| | Eugene Taljaard | Business owner | Mbombela BioNutrients | Agriculturalist/Farmer;Project Management;Founder | |
| | Eugene van Rooyen | Business researcher | Eugene van Rooyen | Software or Technology Services | |
| | Eugene Viljoen | Owner | Buzz Bar | Other;Artist;Management;Entrepreneur | |
| | Evans Mutale | Manager | Marvin Crest Engineering services | Financial Services;Mining and Mining Services;Project Management;Engineer | |
| | Evariste Umba-Tsumbu | Main Director | 4IR Yako Consulting Services Pty Ltd | NGO;Mining and Mining Services;Entrepreneur;Engineer | |
| | Eveshwin Chetty | Director | Outrite Africa (Pty) Ltd | NA | |
| | Ewa Harcourt-Wood | Director | Intaba Capital | Investor - Institutional | |
| | Fanuel Mugaga | Technician | TECH2SMART | Software or Technology Services | |
| | Farai Ishmael Shumba | Director | Blossom Chemicals | Entrepreneur | |
| | Farook Mohammed | Artist and Director | Afro Arabian Empire | Artist | |
| | faseegh fortune | COO | fortune holdings | Other;Consultant - General;Project Management | |
| | FC de Vos | Chief Analytix Officer | Analytix Engine | Analytics | |
| | Feizel Matthews | Managing Director | Mercari SA Pty ltd | Consultant - General | |
| | Ferdi van Greunen | Director | Aldes Business Brokers | Dealmaker | |
| | Ferdie  Schneider | Chief Executive Officer | STA Konsult (Pty) Ltd | Financial Services | |
| | Fhumulani Netshishivhe | Chief executive officer | Mavambe Integrated projects | Marketing Services;Other;Fund Administration | |
| | Frampton Dube | Director | Region G Media | Legal Services;Marketing Services;Human Resources Services;Marketing and Public Relations Services;Investment Banking;Banking Services;NGO;Trade and Investment Promotion Agency;Development Bank;Consultant - General;Regulator;Government Official;Offshore Trust and Corporate Services;Business Intelligence;Chamber of Commerce;Regional Trade Organisation;Custodian and Securities Services;Trade Association;Professional Body with Members;Public Relations or Investment Relations or Communications;Software or Technology Services;Government Minister;Stockbroker;Research Analyst;Dealmaker;Development Finance Institution;Trade Finance;Fund Administration;Translation Services;Analytics;Human Resources - Training;Real Estate Services;Agriculturalist/Farmer;Mining and Mining Services;Project Management;Artist;Management;Entrepreneur;Educationalist;Founder;Journalist;Security Services;Sales | |
| | FRANCIS AGBODO-JNR | CEO | OFFSHORE INFRASTRUCTURE GROUP | Entrepreneur | |
| | Francis Ross | Creative Director | CNS Classic | NA | |
| | Francis Vorhies | Conservation economist | African Wildlife Economy Institute | Economist | |
| | Franck Leya | Founder & CEO | Honest Travel Experience | Human Resources Services;Trade and Investment Promotion Agency;Investor - Corporate | |
| | Franco Du Toit | Operations Manager | Gears Enterprise | NA | |
| | Francois Brytenbach | Farmer | Zenco enterprise | Agriculturalist/Farmer | |
| | Francois Engelbrecht | Founder | Sentinel IT DRP | Other;Regulator;Software or Technology Services;Analytics;Management | |
| | Francois Viljoen | Director | Cresco Group | Investment Banking | |
| | Frankleigh Godfrey | CEO | Veridian Diversified | Chamber of Commerce | |
| | Franklin Clement Rousseau Kenfack Nguefack | Director | African projects consulting LTD | Corporate Advisory;Consultant - General;Investor - Personal;Entrepreneur | |
| | François Conradie | Lead Political Economist | NKC African Economics | Economist | |
| | Fred Chipasha | Director | Finworth | NA | |
| | Freddie Cronje Cronje | | Prinspoort Boerdery CC | Agriculturalist/Farmer | |
| | Frieda Mbele | Director | 5th Dimension Investors | Trade and Investment Promotion Agency | |
| | Gabriel leavell | CEO | Founder | Dealmaker | |
| | Gabriel Lunda | Managing Director | Seedwealthgroup Pty LTD | Banking Services;NGO;Financial Services;Business Intelligence;Investor - Personal;Trade Finance;Economist;Real Estate Services;Management;Entrepreneur;Engineer | |
| | Galia Margalit | CA | N/A | Other | |
| | Gareth Christie | Founder | Liingo | Entrepreneur;Founder | |
| | Garry Mackay | Director | Phimola Environmental Solutions | Consultant - General | |
| | Garth Hilton | Director | Nicro Pump and Valves | Consultant - General | |
| | Garth McNamara | Operations executive | SA Metal | Marketing Services;Dealmaker;Company Executive | |
| | Gary Conway | Director | ATS | Corporate Advisory | |
| | Gary Hill | CEO | Hillson Drilling Pty Ltd | NA | |
| | Gary Petersen | Managing Director | Beespoke Africa Beehives | Agriculturalist/Farmer;Import/Export;Entrepreneur;Founder | |
| | Gary Petersen | Managing Director | PETERSEN'S | NA | |
| | Gary Taylor | | Zasendle Lodge | Company Executive | |
| | Gaspard de Villeneuve | partner | cobasa | NA | |
| | Gavin Eichler | CEO | Pure Nature Agri | Agriculturalist/Farmer;Founder | |
| | Gavin McInnes | Managing director | Compagnie Africaine des Wagons-Lits | Other | |
| | Gavin Young | MD | Zungu Elgin Engineering | NA | |
| | Gaynor Manuel | | Studio Blaque | Marketing Services | |
| | Geert De Decker | Owner | De Decker Forestry cc | NA | |
| | Gelani Dladla | Realtor | Project Manager | NGO;Real Estate Services;Project Management;Management;Founder | |
| | Geniniva Van Der Plank | Consultant / Director | After9 (Pty) Ltd | Consultant - General | |
| | Geniniva Van Der Plank | Consultant / Director | After9 (Pty) Ltd | Trade and Investment Promotion Agency;Consultant - General | |
| | GENO NSENGAMUNGU | MD | DEGEMA GLOBAL AND TRADE | Real Estate Services;Mining and Mining Services;Import/Export | |
| | Geo Bouwer | CEO | PandaRoc | Import/Export;Entrepreneur;Sales | |
| | George Debbo | Independent Telecommunications Consultant | George Debbo Telecom (Pty) Ltd | Consultant - General | |
| | George Kanyonganise | Director | Multi tech business school | Accountant;Development Finance Institution;Human Resources - Training;Educationalist | |
| | George Mahlaela | Executive Chairperson | Umkhongoma Investment Holdings (Pty) Ltd | Trade and Investment Promotion Agency | |
| | Gerald Barker | | Lait D'or Dairies | Consultant - General;Trade Finance | |
| | Gerald Govender | Business Owner | Giskae Group (Pty) Ltd | Entrepreneur;Engineer | |
| | Gerald Kishenyi Kishenyi | CEO | Damoso Direct Investment Projects | Investor - Institutional | |
| | Gerald Nel | MD | Grüner Energy Pty LTD | Other | |
| | Gerald Nel | Direcor | Infradeco | Other | |
| | Gerhard Visagie | CEO | AgVentures | Investor - Institutional | |
| | Gerrie De Jonge | Managing Director | Imperial Group: MD Axis Group International | Trade and Investment Promotion Agency | |
| | Gerrit Heyns | principal | 17africa | Other | |
| | Gerrit van der Merwe | Director | Gem Capital | Corporate Advisory | |
| | Gerrit van der Merwe | Director | Candor Governance | Consultant - ESG | |
| | Gerrit van Heerden | gerrie@thrivecomputers.co.za | Thrive Computers | Other;Dealmaker | |
| | Gian Negra | Owner | Bientang's Cave Restaurant & wine Bar | NA | |
| | Giancarlo Rodighiero | Shareholder, broker, mining sector | RODIGHIERO | Trade and Investment Promotion Agency;Dealmaker;Mining and Mining Services;Import/Export;Entrepreneur;Sales | |
| | Gigi Ngcobo | Investor Relations Manager | The Delta | NA | |
| | Given Phaladi | CEO | REGIVE CAPITAL (Pty) Ltd | Investor - Institutional | |
| | Given Rhulani Makhubele | Founder | UPtracking Solutions | Software or Technology Services | |
| | Glen Davies | Sales Manager - Capital Markets, SSA | FIS | Banking Services;Software or Technology Services;Analytics | |
| | Godfrey Sithole | Entrepreneur | Pvt Company | Other | |
| | Goitse Konopi | Founder & CEO | South Grown | NA | |
| | Gordon Hosking | Founder, Executive Director | Perpetual Advisory Group | Corporate Advisory | |
| | Gosiame Jacob Letlape | Business Development Director | RR6 Agrisolutions (Pty) Ltd | Agriculturalist/Farmer | |
| | GP Botha | Director | Agritech Farms (Pty) Ltd | Other | |
| | Graeme Buckley | Investment Analyst | GoGetta Limited | NA | |
| | Graham Rogoff | Business Development | Betapoint | Consultant - General;Real Estate Services;Project Management | |
| | Grant Abrahams | Owner | Grant Abrahams And Associates | Human Resources Services;Corporate Advisory;Business Intelligence;Investor - Personal;Investor - Institutional;Investor - Corporate;Research Analyst;Dealmaker;Fund Administration;Economist;Business Accelerator or Incubator;Management;Entrepreneur | |
| | Grant Impey | Senior Transaction associate | Benchmark International | NA | |
| | grant loch | owner | KYTER | Mining and Mining Services | |
| | Grant McLeod | SA Representative | Guernsey Finance | NA | |
| | Grant Veldkornet | Managing Director and CEO | Ideiol Holdings Pty Ltd | Human Resources Services;Software or Technology Services;Dealmaker;Human Resources - Training;Mining and Mining Services | |
| | Graça dos Santos | CEO | Monniques Group | Real Estate Services | |
| | Greg Morley | Business Development Director | Expeditus (Pty)Ltd | Business Intelligence | |
| | Gregory Naidoo | Director | FSS | Import/Export | |
| | Greg  Serandos | Managing Partner | Sausalito | Marketing Services;Marketing and Public Relations Services;Corporate Advisory;Banking Services;Financial Services;Consultant - General | |
| | Gugulethu Mabuza | Business Developer | Ecosense Development | Business Intelligence | |
| | gumani moila | | Turnupyourmic | NA | |
| | Haley Gray | CEO & Founder | Cut to Code | Software or Technology Services | |
| | Hannes Kroukamp | Mr | Grain Expo | Corporate Advisory;Agriculturalist/Farmer | |
| | Hannes van Wyk | Managing Director | Toll Infrastructure Services | Consultant - General | |
| | Hano Coetser | Managing Director | Enable Capital | Financial Services | |
| | Hano Coetser | Managing Director | Enable Capital | Financial Services;Trade Finance | |
| | Hans Hartung | Director | ILISO CONSULTING | Real Estate Services;Project Management;Entrepreneur;Engineer | |
| | Hans Karemaker | Executive Director | iX engineers (Pty) Ltd | Consultant - General | |
| | Happiness Mpase | Managing Director | HD N3twork | Entrepreneur | |
| | Hardi Wilkins | Director | Ziada Credit Solutions | NA | |
| | Harmony Mothibe | Director | BotsZA | NA | |
| | Haroon Cajee | CEO | Tradewise Holdings | Import/Export;Sales | |
| | CHRISTOPHER PRETORIUS | DIRECTOR | iNALA STORAGE | Management | |
| | Christopher van Heerden | Director | Brandwacht Breweries (PTY) Ltd | Other | |
| | Cindy Buser | Founder and Managing Director | Indian South Africa Chamber of Commerce(INSACC) | Other;Educationalist | |
| | Cindy Kleynhans | Director | Cifri Trading | NA | |
| | Cingembo Mqaqa | Chief Executive | Espin Connect | Entrepreneur | |
| | Ciska De Jonge | Director | Abilita Dinamiche Evoluzione | Educationalist | |
| | Claim E Mathieussika | | Clirz Comp | Software or Technology Services | |
| | Claire Alexander | Director | Africa Scotland Business Network | NA | |
| | Clarence Johnson | CEO | Johnson&LeRoux | Dealmaker;Import/Export | |
| | Clarissa Pillay | Associate Principal | Africa Rising Corporate Advisory | Corporate Advisory | |
| | Clifford Katisi | | Infinite agri investments | Agriculturalist/Farmer | |
| | Clifford Morwagae | Director | Sisu tec | Agriculturalist/Farmer | |
| | Clifford Mulozi | Chief Executive Officer | Cildel Trading and Consultancy Services (Pty) Ltd | Corporate Advisory;Consultant - General | |
| | Clinton Julius | CEO | JSRR Trading PTY LTD | Other | |
| | Clive Finniss | sales Engineer | Spress | Other | |
| | Cobus Truter | CEO | Indlu Living | Real Estate Services | |
| | Cobus Truter | CEO | IndluLiving | Other | |
| | Colette Symanowitz | Director Marketing, Digital, Business Development | FraudCracker.com | Software or Technology Services | |
| | Colin Human | CEO | Goalfix Financial Consultants and Modellers | Corporate Advisory | |
| | Colin Kannemeyer | Director | Kannemeyer Property Developers | NA | |
| | Colin Povey | MD | Sierra Global (Pty) Ltd | Import/Export | |
| | collen khoza | Manager | Afrikah Finance | Financial Services | |
| | Conny Ngobeni | farmer and manufacturer | Vutomi and Vutlharhi Trading Enterprise | NGO;Investor - Personal;Investor - Corporate | |
| | Conrad Arendse | Director: Business & Technical Development | Atlanthia (Pty) Ltd | Corporate Advisory;Consultant - General;Engineer | |
| | Craig Donaldson | Owner | Donaldson Farms (Pty) Ltd | Agriculturalist/Farmer;Founder | |
| | Craig Jamieson | Chairman/CEO | CMJ Capital Trding | Investor - Personal | |
| | Craig Jamieson | CEO / Chairman | CMJ Capital Trading | Development Finance Institution | |
| | Craig Turton | | Spud Africa | NA | |
| | Crosby Pamberi | CEO | Heritage Pay | Mining and Mining Services | |
| | Crosby Pamberi | CEO | Heritage Pay | Financial Services;Agriculturalist/Farmer;Mining and Mining Services | |
| | Cungu Kamau | Founder | Cungu Aviation | Founder | |
| | Cynthia Tladi | Director | Paulmo (Pty) Ltd | Other | |
| | Dabwitso Kasauka | Co-founder | Penny PTY | NA | |
| | Dale Holloway | Managing Director | Crowe DNA (Pty) Ltd | Human Resources Services | |
| | Daleen Engelbrecht | Transaction Executive | Benchmark International | NA | |
| | Damon Choudree | General Manager | 3D Micro SA | Software or Technology Services | |
| | Danie Grundlingh | Director | Ebenhaeser Engineering | Other | |
| | Daniel Berman | Independent Capital Markets Advisor | Fish Eagle Advisors | Corporate Advisory | |
| | Daniel Motshwane | Business Development Strategist | LFP GROUP | Consultant - ESG;Business Intelligence;Agriculturalist/Farmer | |
| | daniel tshiani | Director | Inet tech(pty) | Other;Trade Association;Investor - Corporate;Veterinarian;Agriculturalist/Farmer;Engineer | |
| | Danny van Niekerk Snr | Development/design | Trucktime Systems | Other | |
| | Daphne Koketso Hlatshwayo Hlatshwayo | Owner & co-founder | CYFE Legacy | Marketing Services;Business Intelligence;Artist;Company Executive;Health Services;Entrepreneur;Founder | |
| | Darlene Smith | Head of Strategy | Imbumba Foundation | NA | |
| | Darren Hollander | CEO | Workforce Africa | Human Resources Services | |
| | Darryl Theron | Owner | TronTechICT | Software or Technology Services | |
| | Darryn Van Den Berg | Visionary MD | Passion4Performance | Human Resources Services;Human Resources - Training;Entrepreneur;Educationalist;Founder | |
| | Darshani Persadh | Technical Co-Founder | DARJYO (PTY) LTD | Software or Technology Services | |
| | Dave Draper | | Chillzone Ice Arena | Founder | |
| | Dave Romero | Group CEO | Caban Investments | NA | |
| | David Brown | | Anyavox PTY LTD | NA | |
| | David Harte | Owner/ Inventor | Supa Socket | Entrepreneur | |
| | David Kruyer | Executive Chairman | Concargo Group Holdings (Pty) Ltd | Consultant - General | |
| | David Moerane | Non Executive director | Moerane Business Projects Pty Ltd | NA | |
| | David Rajak | Independent Debt Consultant | Independant | Investment Banking;Corporate Advisory;Consultant - General;Consultant - ESG;Dealmaker | |
| | David Sanni | Busines Development Director | Damars Group | NA | |
| | David Uwah | Chairman | ZNND Group | Project Management;Management;Entrepreneur | |
| | David Walstra | Founder and CEO | Seam Coffee (Pty) Ltd | Other | |
| | Davin Chown | Director | Genesis Infrastructure & RE Group | Dealmaker | |
| | Dawie Alberts | Business Development Director: Southern Africa | Ceva Logistics | Business Accelerator or Incubator | |
| | de villeneuve de villeneuve | ceo | COBASA | Investor - Corporate | |
| | DEBBIE SHARP | Managing Director | Recycle 4 Africa Group Holdings | Other | |
| | Debra Kureva | CEO & FOUNDER | Top Achievers Africa | Financial Services | |
| | Deliverance Tanyanyiwa | Software Engineer | South Africa | Software or Technology Services;Educationalist | |
| | Delly Kashala | General Manager | Basia Capital Partners | Marketing Services;Human Resources Services;Financial Services;Consultant - General;Accountant;Management | |
| | Delon Naidoo | Manager | NES Electrical Services | NA | |
| | Denika Jade Samuel | Self employed | Compu Tutor | Educationalist | |
| | Denise De Winnaar | Owner | R&A Dienste.(Pty) Ltd | Other | |
| | Denneys Leon Oosthuysen | Managing Director | JOB SA Engineering & Management | Dealmaker | |
| | Dennis Mosala Motata | | Gaonakala Projects | Real Estate Services | |
| | Dennis Sakupwanya | | BlackPearl Financial Group | NA | |
| | Denver April | CEO | Rand n Cent (Pty)Ltd | Entrepreneur | |
| | Deon Herselman | Owner | Patras Greek Kitchen | Sales | |
| | Deon Klerck | Director | Century 21 Plettenberg Bay | Investor - Personal;Real Estate Services;Sales | |
| | Deon Pretorius | Director | Pre Auto Electric | Investor - Personal | |
| | Derek Crompton | Owner | BizSoft | Software or Technology Services | |
| | Derek Thomas | Architect | Design Scape Architects | NA | |
| | Derick Allen | MD | Port2Africa | Software or Technology Services;Project Management;Import/Export | |
| | dermot quinn | CEO | Africa capital Solutions | Investment Banking;Financial Services;Trade Finance | |
| | Desiree botha` | director | Pss Agri | Other | |
| | Desiree Pillay | CEO | Pear Advisory | Financial Services;Consultant - General | |
| | Dharmendra Luksmidas | Director | AEVO Consulting Group | Corporate Advisory;Business Intelligence;Development Finance Institution;Analytics | |
| | Dhineshan Moodley | Founder and Director | SAI Management Solutions PTY Ltd | Software or Technology Services | |
| | Diaku Dianzenza | Freelancer and Activist | Nkalu Services | Marketing and Public Relations Services;NGO;Fund Administration;Agriculturalist/Farmer;Management | |
| | Diana Nyabongo | Head of S-RM South Africa | S-RM | Business Intelligence | |
| | Dieter Spangenberg | Partner | Ramakhu Projects and Trading | NA | |
| | Dingaan Matsimbi | Chief Executive Officer | Mhlengwe Group PTY LTD | Dealmaker | |
| | Dirk Uys Dirk Uys | Director | Olivee trading | Investor - Personal;Mining and Mining Services;Import/Export | |
| | Dirk van der Merwe | CFO | ICA Consulting | Consultant - General | |
| | Dlomo Patrick | Mining | Keyarina mineral solution | NA | |
| | DM Van Wyngaard | Director | Taxi Business Solutions (Pty)Ltd | Financial Services;Sales | |
| | Dodds Pringle | Man Dir | Vitagrate (Pty) Ltd | Mining and Mining Services;Import/Export | |
| | Dodds Pringle | Man Dir | Vitagrate (Pty) Ltd | Consultant - General;Mining and Mining Services;Project Management;Sales | |
| | Dominic Felix | General work | Bikermase Rentel | Entrepreneur | |
| | Donald Pillai | CEO | Genesis Tradeway International | Marketing Services;Marketing and Public Relations Services;Trade and Investment Promotion Agency;Project Management;Management;Company Executive;Import/Export | |
| | Dr Augusta Dorning | Head: Africa Business | Lenmed | Health Services | |
| | Dr Jasper Coetzee | Managing Director | AM-Tech Consulting Engineers | NA | |
| | Dr Tholsia Naidoo | Director | iWhiz | Educationalist | |
| | Dr. Ann Worth | Founder | Worth International | Trade and Investment Promotion Agency;Public Relations or Investment Relations or Communications;Founder | |
| | Drey Kenfack | Co-Founder, COO | egator | NA | |
| | Dries Terblanche | Project Director | Khinnawn | Business Intelligence | |
| | Duane Dennis | Managing Director | Painted Wolf Consulting (PTY) Ltd. | NA | |
| | Duncan Christie | Founder | Grow Africa | Entrepreneur | |
| | Duran Ashokumar | Managing director | Zululand Auto Glass ply Ltd | Other | |
| | dustin stollar | CEO | MoonBabyExchange | NA | |
| | Ebbe Rabie Ebbe Rabie | Managing Director | Price Forbes | NA | |
| | Eben Hattingh | Senior Sales Engineer | Rotork Africa | Sales | |
| | Eben Lubbe | Manager | Greenway Woods Resort | NA | |
| | Edeline Mutize | Director | Koshai Kollection | NA | |
| | Edmund Higenbottam | Managing Director | Verdant Capital | NA | |
| | Edmund Mushwana | Director | Bethesda Multipurpose | Corporate Advisory;Agriculturalist/Farmer;Company Executive | |
| | EDWIN MATJOMANE | Director | GLOBO-DINE trading and projects PTY LTD | Founder | |
| | Edwin Moloi | Director | True Pattern (Pty) Ltd | NA | |
| | Edwin Siebani | Vice President | Verdant Capital | Corporate Advisory | |
| | EELCO BLONK | MD fundraising | Alpha Volantis BV | NA | |
| | Elaine Alberts | MD | Energy Africa Recruitment | Human Resources Services | |
| | Elaine McManus | Owner | Twinkle Stars Preschool | Educationalist | |
| | Elijah Zulu | Director | ENERGYHATCH | NA | |
| | Elizabeth Haskins | Director | Homun Creative Consulting | Marketing Services | |
| | Elne Jacobs | Principle founder | Shiva uranium & gold | Mining and Mining Services | |
| | Elohay Cleaners | Social Enterpreneur | Elohay Cleaners | Other | |
| | Eloise Marais | Founder, MD | Creative Soul Sustainable Health and Living | Consultant - General;Business Intelligence | |
| | Elton Roupa | Global Head: Business Development | NKC African Economics | Research Analyst | |
| | Emanuel Germanis | Managing Director | Evolution Property Group | Other | |
| | Emile Rugamika Chimusa | Acting CEO and Owner | Omics Data Solutions | Software or Technology Services | |
| | Emily Masangani | Need funding | Banesihle Investment pty ltd | Other;Company Executive | |
| | Emmanuel Murumbi | CEO | JORDAN VALLEY PTY LTD | NA | |
| | Emmanuel Nkoana | Director | Kamoka Environmental Maintenance | NA | |
| | Enock Mangirande | CEO | Exousia Food and Beverage | Real Estate Services;Import/Export;Entrepreneur;Founder;Sales | |
| | Enock Maphike | CEO | Entertainment Stock Exchange | Trade Finance | |
| | Enock Moyo | Business Owner | Trainsure Consultancy Pty Ltd | Consultant - General;Human Resources - Training;Project Management;Educationalist | |
| | Enos Magwabeni | Entrepreneur | Promise Ventures | Dealmaker | |
| | Enrico Flavio | | ROCO CONSULTING | Consultant - General | |
| | Eric Cooper | CEO, | RS-Rubber Separations(PTY)Ltd | Entrepreneur | |
| | Eric Jacobson | Business development head | EJ Consulting | Human Resources - Training | |
| | Eric Mair | Africa Rep | Gravity Power LLC | Other | |
| | Erik van den Top | Strategy, Governance & Finance | Love Trust | NA | |
| | Erik van Niekerk | Director | Torque Development Company | Consultant - General;Chamber of Commerce;Management;Entrepreneur | |
| | Erin Nel | Senior Associate | Hatstone | Legal Services | |
| | ERNEST E Mashaba | DIRECTOR/ SHERQ MANAGER | Sakhasive Anthracite | Mining and Mining Services | |
| | Ernest Golaotswe Mogopodi | Director | Shrimp Selector Engineering and Construction | Engineer | |
| | eshley thebe | director | mafakudu general farming pty ltd | Other | |
| | Ethenne Kapank | Financial manager | Calvinia Wes Transport Pty | Import/Export;Entrepreneur | |
| | Etienne Steyn | Quantity surveyor | Dilmun development solutions | Consultant - General | |
| | Ettienne Joubert | Sales manager | Roxia | NA | |
| | Eugene Conradie | Founding Member & Business Leader | Africa First Industries | Dealmaker | |
| | Eugene du Plessis | Chief Investment Officer | Izwe Africa Group | NA | |
| | Eugene Kruss-Van Der Heever | Mr | RJP Food Tech Pty Ltd | Consultant - General | |
| | Eugene Taljaard | Business owner | Mbombela BioNutrients | Agriculturalist/Farmer;Project Management;Founder | |
| | Eugene van Rooyen | Business researcher | Eugene van Rooyen | Software or Technology Services | |
| | Eugene Viljoen | Owner | Buzz Bar | Other;Artist;Management;Entrepreneur | |
| | Evans Mutale | Manager | Marvin Crest Engineering services | Financial Services;Mining and Mining Services;Project Management;Engineer | |
| | Evariste Umba-Tsumbu | Main Director | 4IR Yako Consulting Services Pty Ltd | NGO;Mining and Mining Services;Entrepreneur;Engineer | |
| | Eveshwin Chetty | Director | Outrite Africa (Pty) Ltd | NA | |
| | Ewa Harcourt-Wood | Director | Intaba Capital | Investor - Institutional | |
| | Fanuel Mugaga | Technician | TECH2SMART | Software or Technology Services | |
| | Farai Ishmael Shumba | Director | Blossom Chemicals | Entrepreneur | |
| | Farook Mohammed | Artist and Director | Afro Arabian Empire | Artist | |
| | faseegh fortune | COO | fortune holdings | Other;Consultant - General;Project Management | |
| | FC de Vos | Chief Analytix Officer | Analytix Engine | Analytics | |
| | Feizel Matthews | Managing Director | Mercari SA Pty ltd | Consultant - General | |
| | Ferdi van Greunen | Director | Aldes Business Brokers | Dealmaker | |
| | Ferdie  Schneider | Chief Executive Officer | STA Konsult (Pty) Ltd | Financial Services | |
| | Fhumulani Netshishivhe | Chief executive officer | Mavambe Integrated projects | Marketing Services;Other;Fund Administration | |
| | Frampton Dube | Director | Region G Media | Legal Services;Marketing Services;Human Resources Services;Marketing and Public Relations Services;Investment Banking;Banking Services;NGO;Trade and Investment Promotion Agency;Development Bank;Consultant - General;Regulator;Government Official;Offshore Trust and Corporate Services;Business Intelligence;Chamber of Commerce;Regional Trade Organisation;Custodian and Securities Services;Trade Association;Professional Body with Members;Public Relations or Investment Relations or Communications;Software or Technology Services;Government Minister;Stockbroker;Research Analyst;Dealmaker;Development Finance Institution;Trade Finance;Fund Administration;Translation Services;Analytics;Human Resources - Training;Real Estate Services;Agriculturalist/Farmer;Mining and Mining Services;Project Management;Artist;Management;Entrepreneur;Educationalist;Founder;Journalist;Security Services;Sales | |
| | FRANCIS AGBODO-JNR | CEO | OFFSHORE INFRASTRUCTURE GROUP | Entrepreneur | |
| | Francis Ross | Creative Director | CNS Classic | NA | |
| | Francis Vorhies | Conservation economist | African Wildlife Economy Institute | Economist | |
| | Franck Leya | Founder & CEO | Honest Travel Experience | Human Resources Services;Trade and Investment Promotion Agency;Investor - Corporate | |
| | Franco Du Toit | Operations Manager | Gears Enterprise | NA | |
| | Francois Brytenbach | Farmer | Zenco enterprise | Agriculturalist/Farmer | |
| | Francois Engelbrecht | Founder | Sentinel IT DRP | Other;Regulator;Software or Technology Services;Analytics;Management | |
| | Francois Viljoen | Director | Cresco Group | Investment Banking | |
| | Frankleigh Godfrey | CEO | Veridian Diversified | Chamber of Commerce | |
| | Franklin Clement Rousseau Kenfack Nguefack | Director | African projects consulting LTD | Corporate Advisory;Consultant - General;Investor - Personal;Entrepreneur | |
| | François Conradie | Lead Political Economist | NKC African Economics | Economist | |
| | Fred Chipasha | Director | Finworth | NA | |
| | Freddie Cronje Cronje | | Prinspoort Boerdery CC | Agriculturalist/Farmer | |
| | Frieda Mbele | Director | 5th Dimension Investors | Trade and Investment Promotion Agency | |
| | Gabriel leavell | CEO | Founder | Dealmaker | |
| | Gabriel Lunda | Managing Director | Seedwealthgroup Pty LTD | Banking Services;NGO;Financial Services;Business Intelligence;Investor - Personal;Trade Finance;Economist;Real Estate Services;Management;Entrepreneur;Engineer | |
| | Galia Margalit | CA | N/A | Other | |
| | Gareth Christie | Founder | Liingo | Entrepreneur;Founder | |
| | Garry Mackay | Director | Phimola Environmental Solutions | Consultant - General | |
| | Garth Hilton | Director | Nicro Pump and Valves | Consultant - General | |
| | Garth McNamara | Operations executive | SA Metal | Marketing Services;Dealmaker;Company Executive | |
| | Gary Conway | Director | ATS | Corporate Advisory | |
| | Gary Hill | CEO | Hillson Drilling Pty Ltd | NA | |
| | Gary Petersen | Managing Director | Beespoke Africa Beehives | Agriculturalist/Farmer;Import/Export;Entrepreneur;Founder | |
| | Gary Petersen | Managing Director | PETERSEN'S | NA | |
| | Gary Taylor | | Zasendle Lodge | Company Executive | |
| | Gaspard de Villeneuve | partner | cobasa | NA | |
| | Gavin Eichler | CEO | Pure Nature Agri | Agriculturalist/Farmer;Founder | |
| | Gavin McInnes | Managing director | Compagnie Africaine des Wagons-Lits | Other | |
| | Gavin Young | MD | Zungu Elgin Engineering | NA | |
| | Gaynor Manuel | | Studio Blaque | Marketing Services | |
| | Geert De Decker | Owner | De Decker Forestry cc | NA | |
| | Gelani Dladla | Realtor | Project Manager | NGO;Real Estate Services;Project Management;Management;Founder | |
| | Geniniva Van Der Plank | Consultant / Director | After9 (Pty) Ltd | Consultant - General | |
| | Geniniva Van Der Plank | Consultant / Director | After9 (Pty) Ltd | Trade and Investment Promotion Agency;Consultant - General | |
| | GENO NSENGAMUNGU | MD | DEGEMA GLOBAL AND TRADE | Real Estate Services;Mining and Mining Services;Import/Export | |
| | Geo Bouwer | CEO | PandaRoc | Import/Export;Entrepreneur;Sales | |
| | George Debbo | Independent Telecommunications Consultant | George Debbo Telecom (Pty) Ltd | Consultant - General | |
| | George Kanyonganise | Director | Multi tech business school | Accountant;Development Finance Institution;Human Resources - Training;Educationalist | |
| | George Mahlaela | Executive Chairperson | Umkhongoma Investment Holdings (Pty) Ltd | Trade and Investment Promotion Agency | |
| | Gerald Barker | | Lait D'or Dairies | Consultant - General;Trade Finance | |
| | Gerald Govender | Business Owner | Giskae Group (Pty) Ltd | Entrepreneur;Engineer | |
| | Gerald Kishenyi Kishenyi | CEO | Damoso Direct Investment Projects | Investor - Institutional | |
| | Gerald Nel | MD | Grüner Energy Pty LTD | Other | |
| | Gerald Nel | Direcor | Infradeco | Other | |
| | Gerhard Visagie | CEO | AgVentures | Investor - Institutional | |
| | Gerrie De Jonge | Managing Director | Imperial Group: MD Axis Group International | Trade and Investment Promotion Agency | |
| | Gerrit Heyns | principal | 17africa | Other | |
| | Gerrit van der Merwe | Director | Gem Capital | Corporate Advisory | |
| | Gerrit van der Merwe | Director | Candor Governance | Consultant - ESG | |
| | Gerrit van Heerden | gerrie@thrivecomputers.co.za | Thrive Computers | Other;Dealmaker | |
| | Gian Negra | Owner | Bientang's Cave Restaurant & wine Bar | NA | |
| | Giancarlo Rodighiero | Shareholder, broker, mining sector | RODIGHIERO | Trade and Investment Promotion Agency;Dealmaker;Mining and Mining Services;Import/Export;Entrepreneur;Sales | |
| | Gigi Ngcobo | Investor Relations Manager | The Delta | NA | |
| | Given Phaladi | CEO | REGIVE CAPITAL (Pty) Ltd | Investor - Institutional | |
| | Given Rhulani Makhubele | Founder | UPtracking Solutions | Software or Technology Services | |
| | Glen Davies | Sales Manager - Capital Markets, SSA | FIS | Banking Services;Software or Technology Services;Analytics | |
| | Godfrey Sithole | Entrepreneur | Pvt Company | Other | |
| | Goitse Konopi | Founder & CEO | South Grown | NA | |
| | Gordon Hosking | Founder, Executive Director | Perpetual Advisory Group | Corporate Advisory | |
| | Gosiame Jacob Letlape | Business Development Director | RR6 Agrisolutions (Pty) Ltd | Agriculturalist/Farmer | |
| | GP Botha | Director | Agritech Farms (Pty) Ltd | Other | |
| | Graeme Buckley | Investment Analyst | GoGetta Limited | NA | |
| | Graham Rogoff | Business Development | Betapoint | Consultant - General;Real Estate Services;Project Management | |
| | Grant Abrahams | Owner | Grant Abrahams And Associates | Human Resources Services;Corporate Advisory;Business Intelligence;Investor - Personal;Investor - Institutional;Investor - Corporate;Research Analyst;Dealmaker;Fund Administration;Economist;Business Accelerator or Incubator;Management;Entrepreneur | |
| | Grant Impey | Senior Transaction associate | Benchmark International | NA | |
| | grant loch | owner | KYTER | Mining and Mining Services | |
| | Grant McLeod | SA Representative | Guernsey Finance | NA | |
| | Grant Veldkornet | Managing Director and CEO | Ideiol Holdings Pty Ltd | Human Resources Services;Software or Technology Services;Dealmaker;Human Resources - Training;Mining and Mining Services | |
| | Graça dos Santos | CEO | Monniques Group | Real Estate Services | |
| | Greg Morley | Business Development Director | Expeditus (Pty)Ltd | Business Intelligence | |
| | Gregory Naidoo | Director | FSS | Import/Export | |
| | Greg  Serandos | Managing Partner | Sausalito | Marketing Services;Marketing and Public Relations Services;Corporate Advisory;Banking Services;Financial Services;Consultant - General | |
| | Gugulethu Mabuza | Business Developer | Ecosense Development | Business Intelligence | |
| | gumani moila | | Turnupyourmic | NA | |
| | Haley Gray | CEO & Founder | Cut to Code | Software or Technology Services | |
| | Hannes Kroukamp | Mr | Grain Expo | Corporate Advisory;Agriculturalist/Farmer | |
| | Hannes van Wyk | Managing Director | Toll Infrastructure Services | Consultant - General | |
| | Hano Coetser | Managing Director | Enable Capital | Financial Services | |
| | Hano Coetser | Managing Director | Enable Capital | Financial Services;Trade Finance | |
| | Hans Hartung | Director | ILISO CONSULTING | Real Estate Services;Project Management;Entrepreneur;Engineer | |
| | Hans Karemaker | Executive Director | iX engineers (Pty) Ltd | Consultant - General | |
| | Happiness Mpase | Managing Director | HD N3twork | Entrepreneur | |
| | Hardi Wilkins | Director | Ziada Credit Solutions | NA | |
| | Harmony Mothibe | Director | BotsZA | NA | |
| | Haroon Cajee | CEO | Tradewise Holdings | Import/Export;Sales | |
| | CHRISTOPHER PRETORIUS | DIRECTOR | iNALA STORAGE | Management | |
| | Christopher van Heerden | Director | Brandwacht Breweries (PTY) Ltd | Other | |
| | Cindy Buser | Founder and Managing Director | Indian South Africa Chamber of Commerce(INSACC) | Other;Educationalist | |
| | Cindy Kleynhans | Director | Cifri Trading | NA | |
| | Cingembo Mqaqa | Chief Executive | Espin Connect | Entrepreneur | |
| | Ciska De Jonge | Director | Abilita Dinamiche Evoluzione | Educationalist | |
| | Claim E Mathieussika | | Clirz Comp | Software or Technology Services | |
| | Claire Alexander | Director | Africa Scotland Business Network | NA | |
| | Clarence Johnson | CEO | Johnson&LeRoux | Dealmaker;Import/Export | |
| | Clarissa Pillay | Associate Principal | Africa Rising Corporate Advisory | Corporate Advisory | |
| | Clifford Katisi | | Infinite agri investments | Agriculturalist/Farmer | |
| | Clifford Morwagae | Director | Sisu tec | Agriculturalist/Farmer | |
| | Clifford Mulozi | Chief Executive Officer | Cildel Trading and Consultancy Services (Pty) Ltd | Corporate Advisory;Consultant - General | |
| | Clinton Julius | CEO | JSRR Trading PTY LTD | Other | |
| | Clive Finniss | sales Engineer | Spress | Other | |
| | Cobus Truter | CEO | Indlu Living | Real Estate Services | |
| | Cobus Truter | CEO | IndluLiving | Other | |
| | Colette Symanowitz | Director Marketing, Digital, Business Development | FraudCracker.com | Software or Technology Services | |
| | Colin Human | CEO | Goalfix Financial Consultants and Modellers | Corporate Advisory | |
| | Colin Kannemeyer | Director | Kannemeyer Property Developers | NA | |
| | Colin Povey | MD | Sierra Global (Pty) Ltd | Import/Export | |
| | collen khoza | Manager | Afrikah Finance | Financial Services | |
| | Conny Ngobeni | farmer and manufacturer | Vutomi and Vutlharhi Trading Enterprise | NGO;Investor - Personal;Investor - Corporate | |
| | Conrad Arendse | Director: Business & Technical Development | Atlanthia (Pty) Ltd | Corporate Advisory;Consultant - General;Engineer | |
| | Craig Donaldson | Owner | Donaldson Farms (Pty) Ltd | Agriculturalist/Farmer;Founder | |
| | Craig Jamieson | Chairman/CEO | CMJ Capital Trding | Investor - Personal | |
| | Craig Jamieson | CEO / Chairman | CMJ Capital Trading | Development Finance Institution | |
| | Craig Turton | | Spud Africa | NA | |
| | Crosby Pamberi | CEO | Heritage Pay | Mining and Mining Services | |
| | Crosby Pamberi | CEO | Heritage Pay | Financial Services;Agriculturalist/Farmer;Mining and Mining Services | |
| | Cungu Kamau | Founder | Cungu Aviation | Founder | |
| | Cynthia Tladi | Director | Paulmo (Pty) Ltd | Other | |
| | Dabwitso Kasauka | Co-founder | Penny PTY | NA | |
| | Dale Holloway | Managing Director | Crowe DNA (Pty) Ltd | Human Resources Services | |
| | Daleen Engelbrecht | Transaction Executive | Benchmark International | NA | |
| | Damon Choudree | General Manager | 3D Micro SA | Software or Technology Services | |
| | Danie Grundlingh | Director | Ebenhaeser Engineering | Other | |
| | Daniel Berman | Independent Capital Markets Advisor | Fish Eagle Advisors | Corporate Advisory | |
| | Daniel Motshwane | Business Development Strategist | LFP GROUP | Consultant - ESG;Business Intelligence;Agriculturalist/Farmer | |
| | daniel tshiani | Director | Inet tech(pty) | Other;Trade Association;Investor - Corporate;Veterinarian;Agriculturalist/Farmer;Engineer | |
| | Danny van Niekerk Snr | Development/design | Trucktime Systems | Other | |
| | Daphne Koketso Hlatshwayo Hlatshwayo | Owner & co-founder | CYFE Legacy | Marketing Services;Business Intelligence;Artist;Company Executive;Health Services;Entrepreneur;Founder | |
| | Darlene Smith | Head of Strategy | Imbumba Foundation | NA | |
| | Darren Hollander | CEO | Workforce Africa | Human Resources Services | |
| | Darryl Theron | Owner | TronTechICT | Software or Technology Services | |
| | Darryn Van Den Berg | Visionary MD | Passion4Performance | Human Resources Services;Human Resources - Training;Entrepreneur;Educationalist;Founder | |
| | Darshani Persadh | Technical Co-Founder | DARJYO (PTY) LTD | Software or Technology Services | |
| | Dave Draper | | Chillzone Ice Arena | Founder | |
| | Dave Romero | Group CEO | Caban Investments | NA | |
| | David Brown | | Anyavox PTY LTD | NA | |
| | David Harte | Owner/ Inventor | Supa Socket | Entrepreneur | |
| | David Kruyer | Executive Chairman | Concargo Group Holdings (Pty) Ltd | Consultant - General | |
| | David Moerane | Non Executive director | Moerane Business Projects Pty Ltd | NA | |
| | David Rajak | Independent Debt Consultant | Independant | Investment Banking;Corporate Advisory;Consultant - General;Consultant - ESG;Dealmaker | |
| | David Sanni | Busines Development Director | Damars Group | NA | |
| | David Uwah | Chairman | ZNND Group | Project Management;Management;Entrepreneur | |
| | David Walstra | Founder and CEO | Seam Coffee (Pty) Ltd | Other | |
| | Davin Chown | Director | Genesis Infrastructure & RE Group | Dealmaker | |
| | Dawie Alberts | Business Development Director: Southern Africa | Ceva Logistics | Business Accelerator or Incubator | |
| | de villeneuve de villeneuve | ceo | COBASA | Investor - Corporate | |
| | DEBBIE SHARP | Managing Director | Recycle 4 Africa Group Holdings | Other | |
| | Debra Kureva | CEO & FOUNDER | Top Achievers Africa | Financial Services | |
| | Deliverance Tanyanyiwa | Software Engineer | South Africa | Software or Technology Services;Educationalist | |
| | Delly Kashala | General Manager | Basia Capital Partners | Marketing Services;Human Resources Services;Financial Services;Consultant - General;Accountant;Management | |
| | Delon Naidoo | Manager | NES Electrical Services | NA | |
| | Denika Jade Samuel | Self employed | Compu Tutor | Educationalist | |
| | Denise De Winnaar | Owner | R&A Dienste.(Pty) Ltd | Other | |
| | Denneys Leon Oosthuysen | Managing Director | JOB SA Engineering & Management | Dealmaker | |
| | Dennis Mosala Motata | | Gaonakala Projects | Real Estate Services | |
| | Dennis Sakupwanya | | BlackPearl Financial Group | NA | |
| | Denver April | CEO | Rand n Cent (Pty)Ltd | Entrepreneur | |
| | Deon Herselman | Owner | Patras Greek Kitchen | Sales | |
| | Deon Klerck | Director | Century 21 Plettenberg Bay | Investor - Personal;Real Estate Services;Sales | |
| | Deon Pretorius | Director | Pre Auto Electric | Investor - Personal | |
| | Derek Crompton | Owner | BizSoft | Software or Technology Services | |
| | Derek Thomas | Architect | Design Scape Architects | NA | |
| | Derick Allen | MD | Port2Africa | Software or Technology Services;Project Management;Import/Export | |
| | dermot quinn | CEO | Africa capital Solutions | Investment Banking;Financial Services;Trade Finance | |
| | Desiree botha` | director | Pss Agri | Other | |
| | Desiree Pillay | CEO | Pear Advisory | Financial Services;Consultant - General | |
| | Dharmendra Luksmidas | Director | AEVO Consulting Group | Corporate Advisory;Business Intelligence;Development Finance Institution;Analytics | |
| | Dhineshan Moodley | Founder and Director | SAI Management Solutions PTY Ltd | Software or Technology Services | |
| | Diaku Dianzenza | Freelancer and Activist | Nkalu Services | Marketing and Public Relations Services;NGO;Fund Administration;Agriculturalist/Farmer;Management | |
| | Diana Nyabongo | Head of S-RM South Africa | S-RM | Business Intelligence | |
| | Dieter Spangenberg | Partner | Ramakhu Projects and Trading | NA | |
| | Dingaan Matsimbi | Chief Executive Officer | Mhlengwe Group PTY LTD | Dealmaker | |
| | Dirk Uys Dirk Uys | Director | Olivee trading | Investor - Personal;Mining and Mining Services;Import/Export | |
| | Dirk van der Merwe | CFO | ICA Consulting | Consultant - General | |
| | Dlomo Patrick | Mining | Keyarina mineral solution | NA | |
| | DM Van Wyngaard | Director | Taxi Business Solutions (Pty)Ltd | Financial Services;Sales | |
| | Dodds Pringle | Man Dir | Vitagrate (Pty) Ltd | Mining and Mining Services;Import/Export | |
| | Dodds Pringle | Man Dir | Vitagrate (Pty) Ltd | Consultant - General;Mining and Mining Services;Project Management;Sales | |
| | Dominic Felix | General work | Bikermase Rentel | Entrepreneur | |
| | Donald Pillai | CEO | Genesis Tradeway International | Marketing Services;Marketing and Public Relations Services;Trade and Investment Promotion Agency;Project Management;Management;Company Executive;Import/Export | |
| | Dr Augusta Dorning | Head: Africa Business | Lenmed | Health Services | |
| | Dr Jasper Coetzee | Managing Director | AM-Tech Consulting Engineers | NA | |
| | Dr Tholsia Naidoo | Director | iWhiz | Educationalist | |
| | Dr. Ann Worth | Founder | Worth International | Trade and Investment Promotion Agency;Public Relations or Investment Relations or Communications;Founder | |
| | Drey Kenfack | Co-Founder, COO | egator | NA | |
| | Dries Terblanche | Project Director | Khinnawn | Business Intelligence | |
| | Duane Dennis | Managing Director | Painted Wolf Consulting (PTY) Ltd. | NA | |
| | Duncan Christie | Founder | Grow Africa | Entrepreneur | |
| | Duran Ashokumar | Managing director | Zululand Auto Glass ply Ltd | Other | |
| | dustin stollar | CEO | MoonBabyExchange | NA | |
| | Ebbe Rabie Ebbe Rabie | Managing Director | Price Forbes | NA | |
| | Eben Hattingh | Senior Sales Engineer | Rotork Africa | Sales | |
| | Eben Lubbe | Manager | Greenway Woods Resort | NA | |
| | Edeline Mutize | Director | Koshai Kollection | NA | |
| | Edmund Higenbottam | Managing Director | Verdant Capital | NA | |
| | Edmund Mushwana | Director | Bethesda Multipurpose | Corporate Advisory;Agriculturalist/Farmer;Company Executive | |
| | EDWIN MATJOMANE | Director | GLOBO-DINE trading and projects PTY LTD | Founder | |
| | Edwin Moloi | Director | True Pattern (Pty) Ltd | NA | |
| | Edwin Siebani | Vice President | Verdant Capital | Corporate Advisory | |
| | EELCO BLONK | MD fundraising | Alpha Volantis BV | NA | |
| | Elaine Alberts | MD | Energy Africa Recruitment | Human Resources Services | |
| | Elaine McManus | Owner | Twinkle Stars Preschool | Educationalist | |
| | Elijah Zulu | Director | ENERGYHATCH | NA | |
| | Elizabeth Haskins | Director | Homun Creative Consulting | Marketing Services | |
| | Elne Jacobs | Principle founder | Shiva uranium & gold | Mining and Mining Services | |
| | Elohay Cleaners | Social Enterpreneur | Elohay Cleaners | Other | |
| | Eloise Marais | Founder, MD | Creative Soul Sustainable Health and Living | Consultant - General;Business Intelligence | |
| | Elton Roupa | Global Head: Business Development | NKC African Economics | Research Analyst | |
| | Emanuel Germanis | Managing Director | Evolution Property Group | Other | |
| | Emile Rugamika Chimusa | Acting CEO and Owner | Omics Data Solutions | Software or Technology Services | |
| | Emily Masangani | Need funding | Banesihle Investment pty ltd | Other;Company Executive | |
| | Emmanuel Murumbi | CEO | JORDAN VALLEY PTY LTD | NA | |
| | Emmanuel Nkoana | Director | Kamoka Environmental Maintenance | NA | |
| | Enock Mangirande | CEO | Exousia Food and Beverage | Real Estate Services;Import/Export;Entrepreneur;Founder;Sales | |
| | Enock Maphike | CEO | Entertainment Stock Exchange | Trade Finance | |
| | Enock Moyo | Business Owner | Trainsure Consultancy Pty Ltd | Consultant - General;Human Resources - Training;Project Management;Educationalist | |
| | Enos Magwabeni | Entrepreneur | Promise Ventures | Dealmaker | |
| | Enrico Flavio | | ROCO CONSULTING | Consultant - General | |
| | Eric Cooper | CEO, | RS-Rubber Separations(PTY)Ltd | Entrepreneur | |
| | Eric Jacobson | Business development head | EJ Consulting | Human Resources - Training | |
| | Eric Mair | Africa Rep | Gravity Power LLC | Other | |
| | Erik van den Top | Strategy, Governance & Finance | Love Trust | NA | |
| | Erik van Niekerk | Director | Torque Development Company | Consultant - General;Chamber of Commerce;Management;Entrepreneur | |
| | Erin Nel | Senior Associate | Hatstone | Legal Services | |
| | ERNEST E Mashaba | DIRECTOR/ SHERQ MANAGER | Sakhasive Anthracite | Mining and Mining Services | |
| | Ernest Golaotswe Mogopodi | Director | Shrimp Selector Engineering and Construction | Engineer | |
| | eshley thebe | director | mafakudu general farming pty ltd | Other | |
| | Ethenne Kapank | Financial manager | Calvinia Wes Transport Pty | Import/Export;Entrepreneur | |
| | Etienne Steyn | Quantity surveyor | Dilmun development solutions | Consultant - General | |
| | Ettienne Joubert | Sales manager | Roxia | NA | |
| | Eugene Conradie | Founding Member & Business Leader | Africa First Industries | Dealmaker | |
| | Eugene du Plessis | Chief Investment Officer | Izwe Africa Group | NA | |
| | Eugene Kruss-Van Der Heever | Mr | RJP Food Tech Pty Ltd | Consultant - General | |
| | Eugene Taljaard | Business owner | Mbombela BioNutrients | Agriculturalist/Farmer;Project Management;Founder | |
| | Eugene van Rooyen | Business researcher | Eugene van Rooyen | Software or Technology Services | |
| | Eugene Viljoen | Owner | Buzz Bar | Other;Artist;Management;Entrepreneur | |
| | Evans Mutale | Manager | Marvin Crest Engineering services | Financial Services;Mining and Mining Services;Project Management;Engineer | |
| | Evariste Umba-Tsumbu | Main Director | 4IR Yako Consulting Services Pty Ltd | NGO;Mining and Mining Services;Entrepreneur;Engineer | |
| | Eveshwin Chetty | Director | Outrite Africa (Pty) Ltd | NA | |
| | Ewa Harcourt-Wood | Director | Intaba Capital | Investor - Institutional | |
| | Fanuel Mugaga | Technician | TECH2SMART | Software or Technology Services | |
| | Farai Ishmael Shumba | Director | Blossom Chemicals | Entrepreneur | |
| | Farook Mohammed | Artist and Director | Afro Arabian Empire | Artist | |
| | faseegh fortune | COO | fortune holdings | Other;Consultant - General;Project Management | |
| | FC de Vos | Chief Analytix Officer | Analytix Engine | Analytics | |
| | Feizel Matthews | Managing Director | Mercari SA Pty ltd | Consultant - General | |
| | Ferdi van Greunen | Director | Aldes Business Brokers | Dealmaker | |
| | Ferdie  Schneider | Chief Executive Officer | STA Konsult (Pty) Ltd | Financial Services | |
| | Fhumulani Netshishivhe | Chief executive officer | Mavambe Integrated projects | Marketing Services;Other;Fund Administration | |
| | Frampton Dube | Director | Region G Media | Legal Services;Marketing Services;Human Resources Services;Marketing and Public Relations Services;Investment Banking;Banking Services;NGO;Trade and Investment Promotion Agency;Development Bank;Consultant - General;Regulator;Government Official;Offshore Trust and Corporate Services;Business Intelligence;Chamber of Commerce;Regional Trade Organisation;Custodian and Securities Services;Trade Association;Professional Body with Members;Public Relations or Investment Relations or Communications;Software or Technology Services;Government Minister;Stockbroker;Research Analyst;Dealmaker;Development Finance Institution;Trade Finance;Fund Administration;Translation Services;Analytics;Human Resources - Training;Real Estate Services;Agriculturalist/Farmer;Mining and Mining Services;Project Management;Artist;Management;Entrepreneur;Educationalist;Founder;Journalist;Security Services;Sales | |
| | FRANCIS AGBODO-JNR | CEO | OFFSHORE INFRASTRUCTURE GROUP | Entrepreneur | |
| | Francis Ross | Creative Director | CNS Classic | NA | |
| | Francis Vorhies | Conservation economist | African Wildlife Economy Institute | Economist | |
| | Franck Leya | Founder & CEO | Honest Travel Experience | Human Resources Services;Trade and Investment Promotion Agency;Investor - Corporate | |
| | Franco Du Toit | Operations Manager | Gears Enterprise | NA | |
| | Francois Brytenbach | Farmer | Zenco enterprise | Agriculturalist/Farmer | |
| | Francois Engelbrecht | Founder | Sentinel IT DRP | Other;Regulator;Software or Technology Services;Analytics;Management | |
| | Francois Viljoen | Director | Cresco Group | Investment Banking | |
| | Frankleigh Godfrey | CEO | Veridian Diversified | Chamber of Commerce | |
| | Franklin Clement Rousseau Kenfack Nguefack | Director | African projects consulting LTD | Corporate Advisory;Consultant - General;Investor - Personal;Entrepreneur | |
| | François Conradie | Lead Political Economist | NKC African Economics | Economist | |
| | Fred Chipasha | Director | Finworth | NA | |
| | Freddie Cronje Cronje | | Prinspoort Boerdery CC | Agriculturalist/Farmer | |
| | Frieda Mbele | Director | 5th Dimension Investors | Trade and Investment Promotion Agency | |
| | Gabriel leavell | CEO | Founder | Dealmaker | |
| | Gabriel Lunda | Managing Director | Seedwealthgroup Pty LTD | Banking Services;NGO;Financial Services;Business Intelligence;Investor - Personal;Trade Finance;Economist;Real Estate Services;Management;Entrepreneur;Engineer | |
| | Galia Margalit | CA | N/A | Other | |
| | Gareth Christie | Founder | Liingo | Entrepreneur;Founder | |
| | Garry Mackay | Director | Phimola Environmental Solutions | Consultant - General | |
| | Garth Hilton | Director | Nicro Pump and Valves | Consultant - General | |
| | Garth McNamara | Operations executive | SA Metal | Marketing Services;Dealmaker;Company Executive | |
| | Gary Conway | Director | ATS | Corporate Advisory | |
| | Gary Hill | CEO | Hillson Drilling Pty Ltd | NA | |
| | Gary Petersen | Managing Director | Beespoke Africa Beehives | Agriculturalist/Farmer;Import/Export;Entrepreneur;Founder | |
| | Gary Petersen | Managing Director | PETERSEN'S | NA | |
| | Gary Taylor | | Zasendle Lodge | Company Executive | |
| | Gaspard de Villeneuve | partner | cobasa | NA | |
| | Gavin Eichler | CEO | Pure Nature Agri | Agriculturalist/Farmer;Founder | |
| | Gavin McInnes | Managing director | Compagnie Africaine des Wagons-Lits | Other | |
| | Gavin Young | MD | Zungu Elgin Engineering | NA | |
| | Gaynor Manuel | | Studio Blaque | Marketing Services | |
| | Geert De Decker | Owner | De Decker Forestry cc | NA | |
| | Gelani Dladla | Realtor | Project Manager | NGO;Real Estate Services;Project Management;Management;Founder | |
| | Geniniva Van Der Plank | Consultant / Director | After9 (Pty) Ltd | Consultant - General | |
| | Geniniva Van Der Plank | Consultant / Director | After9 (Pty) Ltd | Trade and Investment Promotion Agency;Consultant - General | |
| | GENO NSENGAMUNGU | MD | DEGEMA GLOBAL AND TRADE | Real Estate Services;Mining and Mining Services;Import/Export | |
| | Geo Bouwer | CEO | PandaRoc | Import/Export;Entrepreneur;Sales | |
| | George Debbo | Independent Telecommunications Consultant | George Debbo Telecom (Pty) Ltd | Consultant - General | |
| | George Kanyonganise | Director | Multi tech business school | Accountant;Development Finance Institution;Human Resources - Training;Educationalist | |
| | George Mahlaela | Executive Chairperson | Umkhongoma Investment Holdings (Pty) Ltd | Trade and Investment Promotion Agency | |
| | Gerald Barker | | Lait D'or Dairies | Consultant - General;Trade Finance | |
| | Gerald Govender | Business Owner | Giskae Group (Pty) Ltd | Entrepreneur;Engineer | |
| | Gerald Kishenyi Kishenyi | CEO | Damoso Direct Investment Projects | Investor - Institutional | |
| | Gerald Nel | MD | Grüner Energy Pty LTD | Other | |
| | Gerald Nel | Direcor | Infradeco | Other | |
| | Gerhard Visagie | CEO | AgVentures | Investor - Institutional | |
| | Gerrie De Jonge | Managing Director | Imperial Group: MD Axis Group International | Trade and Investment Promotion Agency | |
| | Gerrit Heyns | principal | 17africa | Other | |
| | Gerrit van der Merwe | Director | Gem Capital | Corporate Advisory | |
| | Gerrit van der Merwe | Director | Candor Governance | Consultant - ESG | |
| | Gerrit van Heerden | gerrie@thrivecomputers.co.za | Thrive Computers | Other;Dealmaker | |
| | Gian Negra | Owner | Bientang's Cave Restaurant & wine Bar | NA | |
| | Giancarlo Rodighiero | Shareholder, broker, mining sector | RODIGHIERO | Trade and Investment Promotion Agency;Dealmaker;Mining and Mining Services;Import/Export;Entrepreneur;Sales | |
| | Gigi Ngcobo | Investor Relations Manager | The Delta | NA | |
| | Given Phaladi | CEO | REGIVE CAPITAL (Pty) Ltd | Investor - Institutional | |
| | Given Rhulani Makhubele | Founder | UPtracking Solutions | Software or Technology Services | |
| | Glen Davies | Sales Manager - Capital Markets, SSA | FIS | Banking Services;Software or Technology Services;Analytics | |
| | Godfrey Sithole | Entrepreneur | Pvt Company | Other | |
| | Goitse Konopi | Founder & CEO | South Grown | NA | |
| | Gordon Hosking | Founder, Executive Director | Perpetual Advisory Group | Corporate Advisory | |
| | Gosiame Jacob Letlape | Business Development Director | RR6 Agrisolutions (Pty) Ltd | Agriculturalist/Farmer | |
| | GP Botha | Director | Agritech Farms (Pty) Ltd | Other | |
| | Graeme Buckley | Investment Analyst | GoGetta Limited | NA | |
| | Graham Rogoff | Business Development | Betapoint | Consultant - General;Real Estate Services;Project Management | |
| | Grant Abrahams | Owner | Grant Abrahams And Associates | Human Resources Services;Corporate Advisory;Business Intelligence;Investor - Personal;Investor - Institutional;Investor - Corporate;Research Analyst;Dealmaker;Fund Administration;Economist;Business Accelerator or Incubator;Management;Entrepreneur | |
| | Grant Impey | Senior Transaction associate | Benchmark International | NA | |
| | grant loch | owner | KYTER | Mining and Mining Services | |
| | Grant McLeod | SA Representative | Guernsey Finance | NA | |
| | Grant Veldkornet | Managing Director and CEO | Ideiol Holdings Pty Ltd | Human Resources Services;Software or Technology Services;Dealmaker;Human Resources - Training;Mining and Mining Services | |
| | Graça dos Santos | CEO | Monniques Group | Real Estate Services | |
| | Greg Morley | Business Development Director | Expeditus (Pty)Ltd | Business Intelligence | |
| | Gregory Naidoo | Director | FSS | Import/Export | |
| | Greg  Serandos | Managing Partner | Sausalito | Marketing Services;Marketing and Public Relations Services;Corporate Advisory;Banking Services;Financial Services;Consultant - General | |
| | Gugulethu Mabuza | Business Developer | Ecosense Development | Business Intelligence | |
| | gumani moila | | Turnupyourmic | NA | |
| | Haley Gray | CEO & Founder | Cut to Code | Software or Technology Services | |
| | Hannes Kroukamp | Mr | Grain Expo | Corporate Advisory;Agriculturalist/Farmer | |
| | Hannes van Wyk | Managing Director | Toll Infrastructure Services | Consultant - General | |
| | Hano Coetser | Managing Director | Enable Capital | Financial Services | |
| | Hano Coetser | Managing Director | Enable Capital | Financial Services;Trade Finance | |
| | Hans Hartung | Director | ILISO CONSULTING | Real Estate Services;Project Management;Entrepreneur;Engineer | |
| | Hans Karemaker | Executive Director | iX engineers (Pty) Ltd | Consultant - General | |
| | Happiness Mpase | Managing Director | HD N3twork | Entrepreneur | |
| | Hardi Wilkins | Director | Ziada Credit Solutions | NA | |
| | Harmony Mothibe | Director | BotsZA | NA | |
| | Haroon Cajee | CEO | Tradewise Holdings | Import/Export;Sales | |
| | CHRISTOPHER PRETORIUS | DIRECTOR | iNALA STORAGE | Management | |
| | Christopher van Heerden | Director | Brandwacht Breweries (PTY) Ltd | Other | |
| | Cindy Buser | Founder and Managing Director | Indian South Africa Chamber of Commerce(INSACC) | Other;Educationalist | |
| | Cindy Kleynhans | Director | Cifri Trading | NA | |
| | Cingembo Mqaqa | Chief Executive | Espin Connect | Entrepreneur | |
| | Ciska De Jonge | Director | Abilita Dinamiche Evoluzione | Educationalist | |
| | Claim E Mathieussika | | Clirz Comp | Software or Technology Services | |
| | Claire Alexander | Director | Africa Scotland Business Network | NA | |
| | Clarence Johnson | CEO | Johnson&LeRoux | Dealmaker;Import/Export | |
| | Clarissa Pillay | Associate Principal | Africa Rising Corporate Advisory | Corporate Advisory | |
| | Clifford Katisi | | Infinite agri investments | Agriculturalist/Farmer | |
| | Clifford Morwagae | Director | Sisu tec | Agriculturalist/Farmer | |
| | Clifford Mulozi | Chief Executive Officer | Cildel Trading and Consultancy Services (Pty) Ltd | Corporate Advisory;Consultant - General | |
| | Clinton Julius | CEO | JSRR Trading PTY LTD | Other | |
| | Clive Finniss | sales Engineer | Spress | Other | |
| | Cobus Truter | CEO | Indlu Living | Real Estate Services | |
| | Cobus Truter | CEO | IndluLiving | Other | |