Here we assist you do business and Invest in Ivory Coast, we provide a country profile, you can get Business Opportunities in Ivory Coast as well as search for and connect with leading Companies in Ivory Coast. We also provide a list of key Government trade advisors to assist you with doing business in Ivory Coast and other relevant business information on Ivory Coast.
Based in the USA or outside Africa? Join our Africa Business Community FREE so we can keep you updated on Ivory Coast business and investment information here.  If you have a specific investment or business proposition add it to the Africa Business Opportunities Dashboard FREE. Want investment, or to find a business partner in Ivory Coast, are you selling real estate etc, do you have goods, products or services you want to promote in Ivory Coast? If so our Africa Business Opportunities Dashboard is for you. View some of the business opportunities uploaded by our Africa Business Community here. Fast growing, more established Ivory Coast companies with experienced management teams looking for investment can add themselves to our closed AFSIC African Investments Dashboard – after you have uploaded information about your investment opportunity we can send it directly into the inbox of many of Africa's most important investors. To benefit from any of these options join our Africa Business Community today FREE !
Our team runs AFSIC – Investing in Africa, perhaps Africa's most important investment event. To keep updated on AFSIC and forthcoming business and investment trips to Ivory Coast please Subscribe to our Mailers below.
Subscribe to our newsletter
Knowledge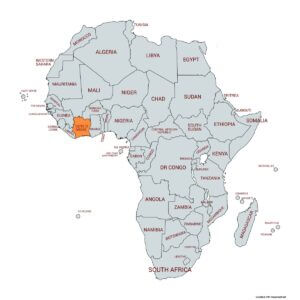 Country overview: Ivory Coast also known as Côte d'Ivoire is located in West Africa bordering the north Atlantic Ocean. It shares borders with Ghana to the east, Liberia & Guinea to the west and Mali, Burkina Faso to the north. It gained its independence from France on 7 August 1960. Its legislative capital is Yamoussoukro while Abidjan is the administrative capital with 12 Administrative districts. It is a multiparty Presidential Republic with the President sitting as the Head of State and Prime Minister as the head of government. It runs a bicameral national assembly consisting of Senate and National assembly, and its official language is French. It has a balance mix of both Moslem and Christian and it practices a civil law legal system based on French civil code. It has an area size of 322,463 million sq km. Ivory Coast plays a key role in transit trade for neighbouring landlocked countries and its economy has grown faster than most other African countries since independence. The country's role as a hub to the regional market is underlined through the presence of several regional headquarters of foreign affiliates and institutions.
Demographic Information: Ivory Coast has an estimated population of 27.48 million comprising mostly of younger population (less than 25 years) which makes up about 58.7% of the population, those in the age bracket of 25-64 years makes up of  about 38.4% of the population and above 65 years age group makes up of about 2.9% of the population. The average population density is estimated at 83 inhabitants/km2. In terms of human development indicators, it has a life expectancy of 63.6 years (Women) and 59.2years (Men). It achieved universal primary education with a 100.32% Primary enrolment rate in 2019 and overall literacy level of 47.2% as at 2018.
Broad Economic Overview: Ivory Coast economy is mainly dependent on agriculture. It is the world's largest producer and exporter of cocoa beans and a significant producer and exporter of coffee and palm oil. It is also one of the three bigger producers and exporters of cashew. Agriculture is estimated to contribute about 20% of GDP and employs about 48% of the country's workforce. Ivory Coast is also rich in mineral resources with abundant deposit of hydrocarbons, ore (gold, copper, iron, manganese, bauxite). There has been increased activities in the oil sector recently and some mining activities, particularly of precious minerals, such as gold and diamonds, but also others like nickel.  Real GDP expanded 6.8% & 6.9% in 2018 & 2019 resp having recorded 8.1% compounded annual GDP growth in the past 5 years. Ivory Coast growth prospects remain positive. In 2019, Ivory Coast and Ghana (62% of world cocoa production) signed an agreement to increase the cocoa bean price.  Ivory Coast currency is CFA franc pegged to Euro. Main export includes coffee, cocoa, cotton, palm oil, timber, petroleum, banana, pineapples etc. Major imports include fuel, foodstuffs, and capital equipment.
Investment Opportunities: Ivory Coast remains a preferred destination for foreign investors in the West Africa region. It's currently in the last year of its National Plan of Development (PND 2016-2020) which aims to make private investment a driver of the country's economic growth. The plan focuses on diversifying output, improving the processing of raw materials and developing value chains in the primary sector. There is also focus on infrastructure improvement with initiatives such as Abidjan urban transport project and infrastructure related to the organisation of 2023 Africa Cup of Nations expected to present opportunity for private investment. Ivory Coast suffered post-election violence in 2010-2011 but its political climate has since normalised. However, the political context ahead of the 2020 presidential elections may  heighten investment climate uncertainty. Investment opportunities are available in the following sector of the economy real estate, the financial services, energy infrastructure, transport infrastructure, telecoms, agribusiness, textiles, consumer goods etc.
Recommended Doing Business in Ivory Coast Contacts
List of Companies in Ivory Coast
Want to add your Cote D'Ivoire Company to our List? Sign Up Here.
| | Name | Job Title | Company Name | Business service Provided | Contact |
| --- | --- | --- | --- | --- | --- |
| | Abissi Raymond Raymond KOUAME | CEO | MESHIAH AB GROUP | Trade and Investment Promotion Agency | |
| | Akouete Fred Bastos | CEO | SEQUOIA BUSINESS OFFICE | Financial Services | |
| | Akpeliais D. Irenee Koffi | Chief Executive Officer | GREENFIELD INVEST INC. | Financial Services | |
| | Alain Serge Messou | Managing Partner | M&H Consulting Africa | Corporate Advisory | |
| | Alexandre YAO-SAHI | Group Investigation Deputy Head | Atlantic Business International | NA | |
| | Ali Djire | Managing Partner | Yennega Capital | Consultant - General | |
| | ALI LEWIEGRY COULIBALY | MANAGING PARTNER | SEGEN CAPITAL | Corporate Advisory | |
| | Alphonse MBO | Sales | ST DGITAL | NA | |
| | Aman Kra | | AFRICA LINK CAPITAL | Financial Services | |
| | Bienvenue Marie Ange Thio | Consultant Marketing et communication | TALISMAN | Marketing Services;Marketing and Public Relations Services;Consultant - General | |
| | CHIMENE ASARE | CEO | ASAREL GROUP | NA | |
| | Daniel KOFFI | Manager | KITA IT | Software or Technology Services | |
| | Deretho Zigbe | Deputy Head of Risk Management & Permanent Control | Dertz Risk Solutions & Strategy | Insurance Products | |
| | EDMOND KOKORA | | Synergies Conseils | NA | |
| | EHUIE ALFRED MANIVOULE | PROJECT MANAGER | GENERAL ELECTRIC | Offshore Trust and Corporate Services | |
| | Emmanuel Mindo | CEO | Mindo services Llc | Dealmaker | |
| | Eric Nkoumo-Mobio | Ceo | BICI BOURSE | Investment Banking | |
| | Euloge CAMARA | Manager | AFRICA MARKET CORNER | Business Intelligence | |
| | Excellium Consulting and Services | Manager | Excellium Consulting and Services | Consultant - General | |
| | Frederic Bittar | associate | Enexus Finance | Investment Banking;Corporate Advisory;Financial Services;Investor - Institutional;Investor - Corporate;Development Finance Institution | |
| | Georges Tanoe | Manager | Middle Group | NA | |
| | GUEDE FRANCK OLIVIER DAGOUROU | FINANCE MANAGER | AWALE RESOURCES SARL | NA | |
| | Hadjara Coulibaly | Directeur Général | MEDIOMARKET | Marketing Services | |
| | Hermann N'ZI | Founder & CEO | OPTIMUS CONSEIL EN ASSURANCE | Insurance Products | |
| | Hervé Patrick Amonh | Director | EDEN PRESTIGE | Financial Services | |
| | Ibrahima Coulibaly | CEO | Value Audit & Advisory - V2A | Corporate Advisory | |
| | Ismaël Bamba | Manager | Deloitte | NA | |
| | Jean Francois KOUASSI | Managing Director | Hysope Finance | Corporate Advisory;Other;Financial Services;Dealmaker;Trade Finance | |
| | JEAN JACQUES AMON | Responsable Administratif, Comptable et Financier | PhoenixAfrica Asset Management (PAM) | NA | |
| | Jean-Christian KOUDOU | Managing Director | Africa Link Capital Group | Investment Banking | |
| | Jean-Michel Ette | Director | KeysFinance Partners | Investment Banking | |
| | JM Romero | Director Manager | InterOutlet | NA | |
| | Joel-Andre Colomb | PARTNER | CARVIN CAPITAL | Dealmaker | |
| | Jonathan Morrison | CEO, Founder | TREIIZE | Other | |
| | Kamal Daher | Sales manager | ... | NA | |
| | Kevin Sech | Communication Manger | American Chamber of Commerce in Cote d'Ivoire | Chamber of Commerce;Investor - Institutional;Business Accelerator or Incubator | |
| | KOUASSI CYRILLE GRAHOURI | GÉRANT-DIRECTEUR GLOBAL DES OPÉRATIONS | CYRCOP INTERNATIONAL SARL | Other | |
| | M'begnan Aristide Etienne ABOLE | Manager | ELITRA (L'élite des travaux) | Other | |
| | Mamadou Drame | Chief Executive Officer | DIGITALSCHOOL TECHNOLOGIES | Software or Technology Services | |
| | Marco Masahida Yamaguchi | Manager, Non-Sovereign Infrastructure Division, Infrastructure and Urban Development Department | AfDB | Development Finance Institution | |
| | Nicolas Fakhry | CEO | ASSURLAND AFRICA LTD | Insurance Products | |
| | Okey Enyinna | CEO | Eva Cote d'Ivoire | Consultant - General | |
| | Olivier GUI | Managing Director | AFRICA LINK CAPITAL TITRISATION | Financial Services | |
| | Owochi Boka | Co Founder | Ebelehou | NA | |
| | Pierre-Yves Koty | Founder | Suunbox | Other | |
| | Qavani Guy Noel Kone | Founder and CEO | IMIDJAII | Financial Services | |
| | Sam Jaber | Director | Siemgroup | Business Intelligence | |
| | Sandon Wilfried Dabire | Entrepreneur | WillevaSalt Company | Other;Trade Association | |
| | SOCOGES BTP Sarl | ceo | Socoges BTP | NA | |
| | Soualio FADIGA | Director of Capital Market Department | NH CONSULTING GROUP | NA | |
| | Wanvague SEKONGO | Directeur General | SNATP GROUP | Other | |
| | Yacouba Kone | Agriculture | Yacagro | NA | |
| | Yves Agany Oloui | Senior Consultant | OLOUI AGANY CONSULTANT | Financial Services | |
Doing Business in Ivory Coast
Contact Us for More Information
Our website contains comprehensive information related to Africa investors group and information on the best investment opportunities in Africa, how to invest in Africa and where to invest in Africa. It also contains a wealth of information on African Investors and Funds, who Invests in Africa, which investors are relevant to you and how to contact them. This page is designed to help you find your information as quickly as possible.
Our focus is on matching individuals, companies and funds wanting to invest in Africa with information on how and where to invest in Africa, Africa's best investment opportunities in addition to identifying companies, funds and individuals looking for investment, and comprehensive information on who is investing in Africa, Africa investors, how to get funding, the best Africa investment apps, African investment platforms, Africa's top corporate service providers, business leaders and communities etc.
Initially please review the following suggestions that may be useful:
---
Africa Investor Research
In order to assist you efficiently locate the information you require we consolidate information on African Investments (funds, companies, investment opportunities. stock exchanges, apps) on our page https://invest-in-africa.co/africa-investments/.
If this page is not relevant then go to our central research page https://invest-in-africa.co/africa-business that acts as a repository of information relating to Africa's investors. best investments, business, trade and investment world. This library will assist with your query Africa investors group. The information covers queries relating to:
Investing in Africa: Helping individuals, African institutional investors or business investors identify Africa's best business and investment opportunities, which country they are located in, and how to access these investment opportunities including recommendations on online business development, African stockbrokers, African crowdfunders, and appropriate investment platforms, hubs or apps;
Why Invest in Africa?: Providing research on why Africa is, in our opinion, such a great investment opportunity;
Applying for Funding: Assisting individuals and companies with African businesses, projects or concepts or ideas to raise money from Africa investors, as well as providing details on who the Africa investors are, their sector preferences, and whether they are focused on more developed companies, or focused on venture capital, angel or seed investment opportunities;
Africa Investment Forums: Facilitating Investors and Companies seeking investment or business development opportunities to meet each other at highly focused and relevant Africa Investment Events;
Where is Africa's Investment coming from? Providing information on who is investing in Africa, which countries are investing in Africa, and which African countries are receiving the investment;
Promoting yourself for FREE: How to add yourself (or search) our Directory of Africa's top business executives to facilitate your business development and investment initiatives.
---
Still looking for the Correct Information?
In order for us to assist you with your enquiry on Africa investors group click one or more of the topics below that are of interest to you so that we can route you to the appropriate web page:
Ready to attend AFSIC – Investing in Africa, Africa's Investment Event?
AFSIC – Investing in Africa is believed to be the largest annual Africa investment event taking place outside Africa. It is an exceptional location to meet Africa's business leaders and investment community in one place at one time. If you would like to learn more or attend AFSIC – Investing in Africa you can download the Event Brochure or please visit www.afsic.net.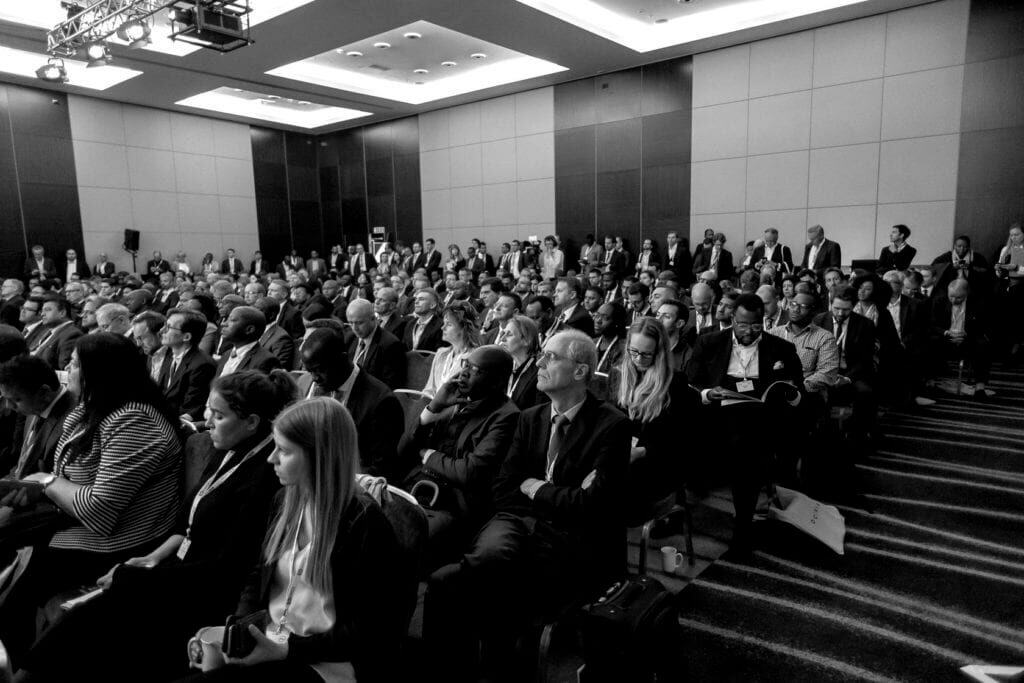 ---
Do you Want to Promote your Company's Services across Africa for FREE?
If you would like to Promote yourself and your Company across Africa and globally, then please visit our Homepage. Click 'Promote My Company's Services' and follow the instructions to join our community. There is no charge.
---
Do you Want to Find Africa's Top Business Leaders and Business Service Providers? Search Our Database for FREE.
Go to our Homepage and click on 'Search Our Database'. You can filter your search by business sector, keywords and more.
---
Do you Want to Supercharge your Company's Presence across Africa and with Businesses and Investors focused on Africa?
Please contact us on investments@invest-in-africa.co if you would like our team to contact you regarding the multiple ways in which we can assist your business development and investment plans in Africa or how we can provide you with additional profile across the entire African continent.
---
Want to Contribute to our Website?
Do you have specialist knowledge or insights regarding Africa Trade, Business or Investment opportunities that you would like to share with our readers? If so please review our page on Submitting Articles. https://invest-in-africa.co/submit-an-article/
---
Subscribe to Mailers
Do you want to Subscribe to our mailers to keep yourself updated? Please add yourself to our Mailing List using the Subscribe to our Newsletter button at the bottom of our Homepage.
---
Contact Us
We are always looking to grow partnerships in Africa. If that is of interest or if we have not been able to resolve your query on Africa investors group then please get in touch with us at investments@invest-in-africa.co
---
Other Information Sources
Unable to find the information that you require? You may want to access the following internet sites to obtain further information on Africa, investing in Africa, African business and African investment opportunities….
African Development Bank: www.afdb.org
African Investments: www.africaninvestments.co
AFSIC – Investing in Africa Event: www.afsic.net
BBC Africa: www.bbc.co.uk/news/world/africa
Investing in Africa: www.invest-in-africa.co
---
About Us
Our team has enormous experience living, working and investing in Africa. We have a comprehensive view on investment opportunities in Africa and Africa's most important investors and we cover all 54 countries in Africa. As such we should be able to assist you on your query on Africa investors group. Our experience is evidenced by the success of our annual AFSIC – Investing in Africa event which we believe is the largest annual Africa investment event taking place outside Africa, and one of the most important conduits of investment into Africa.  More information on us and our team is available here.